[rating:3]
The Original Tandoori Kitchen on Main Street is an Indian restaurant showcasing Tandoori, an Indian style cuisine cooked using a a clay oven. It's found a new home from their previous location sporting a new exterior design that looks more like an urban bistro, and an updated interior.
The dining area inside feels like the living room of someone's home — a combination of eerily impeccable furnishings decorated with dramatic, oversized Indian paintings.

(Above: Naan bread, beautifully baked with a a slight char from the Tandoori oven.)
We started off with the curry chicken: boneless chicken stewed in onions, tomatoes, ginger, garlic and spices served in a little steel pot. The chicken was decent, but the curry was the standout. The aroma from the Indian spices and smooth texture made dunking our Naan bread a pure pleasure.

(Above: Sizzling hot plate of fish Tandoori served with green peppers, onions and a wedge of lime.)
Next, fish tandoori: a hearty white fish marinated in yogurt, garlic and served with chutney. The fish was grilled over charcoals and served on a sizzling hot plate with onions and green peppers that was still crackling when it arrived table side. The fish was firmer than we'd prefer, but the smokiness and flavour was spot on.
Our proteins were accompanied by an order of pulao rice — basmati rice cooked in onions and spices — and two naan breads, which were light and fluffy and delightful to eat. The one disappointment was our meals were ordered very spicy, but unfortunately the heat felt more like a tickle.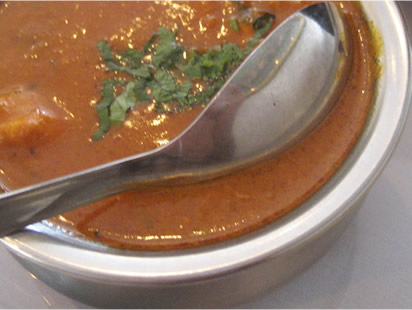 (Above: Curry chicken, certainly appeared to be in no hurry.)
Our bill including taxes and tips including one chai tea came to just under $45, a bit on the steep side, but still reasonable. The servers were friendly and efficient for the most part, but hospitality towards the end of the meal started to fade. I personally prefer Ashiana on Kingsway, but the Original Tandoori Kitchen is still worth a visit if you happen to be in the neighboorhood.
Perfect for: a taste of Indian Tandoori on Main Street.
The Details
7215 Main Street, Vancouver
604.327.8900
originaltandoori.com
— ♠ —