!

Ashiana Tandoori has closed their Kingsway location and have since moved to Surrey. We have not yet had the opportunity to visit this new location.
Ashiana Tandoori is an Indian restaurant located on Kingsway near Knight Street. Despite the aging exterior, the quaintly decorated Ashiana takes you away to the South East, to give a little taste of Indian cuisine.
The atmosphere is calm and soothing. Dim colored lights and soft music played in the background. The restaurant is much bigger then I expected with two levels of seating to accommodate a number of guests. We were seated on the second level which overlooked the lower level, giving us the opportunity to people watch while enjoying a nice cozy intimate dinner.

(Top to bottom: 1. Fish Makni, 2. Fresh, oven-baked Naan.)
There were a lot of tempting items on the menu, but we've already chosen our dishes. First, Papadum — crispy, oversized chips made with lentil flour. Then, Ashiana's specialty, Fish Makni — Tandoori fish cooked in a creamy sauce with butter, yogurt, fresh cream and tomatoes. Next, Fish Tandoori: grilled in the tandoor and served with white sweet onions. Accompanied by Peas Palao Chawal-E-Khas — Indian basmati rice cooked with mild spices, peas and onions and Naan Tandoori — leavened bread baked in a tandoor. And for dessert, Kheer— rice pudding.

(Clockwise: 1. Fish Tandoori 2. Peas Palao Chawal-E-Khas. 3. Papadum.)
The papadum were light and crispy, not deep fried in oil but toasted in the tandoor. The Fish Makni was served in a fondue style brass dish over a a lit candle. It was firm, but flaky and moist. The sauce was incredible and made for perfect dunking for our fluffy naan bread. Tre's Fish Tandoori arrived sizzling away on the cast iron platter. It was tender, flaky and not the least bit dry. The sweet white onions were a nice balance against the lightly seasoned fish.
The rice was pretty looking, and arrived stuffed in a copper mini pot. There was a good mix of spices in the basmati rice, which was nice and light and was quickly devoured. Lastly, the Kheer — the rice pudding was good and had a nice fragrance from the spices, but I was disappointed it lacked the raisins and pistachios described on the menu.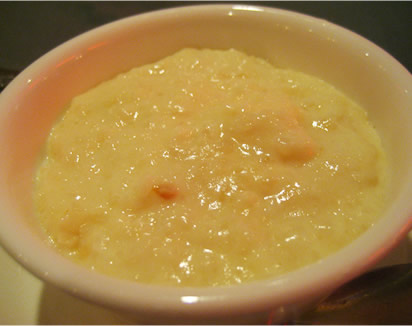 Our bill including taxes and tips came to just under $40 which was alright. The portions are a bit smaller at Ashiana, which is fine by us as long as the food is cooked well. Our service was attentive and friendly and overall enjoyable.
Perfect for: a little taste of the South East.
The Details
1440 Kingsway, Vancouver
604.874.5060
ashianatandoori.com
— ♠ —