[rating:4]
Original Halibuts II on Northeast Alberta Street in Portland, is a fish and chip restaurant wrapped in a Blues lounge. While Original Halibuts next door resembles what most of us would recognized as a seaside chip shop, Halibuts II marries the odd couple of Blues and fish and chips.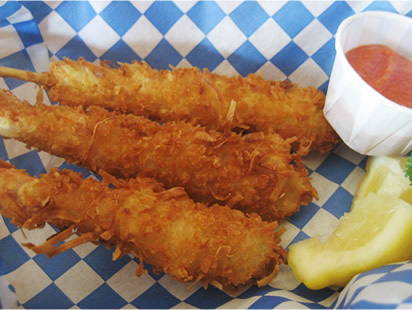 (Above: Deep fried, coconut encrusted prawns on a stick.)
We wandered into Original Halibuts I, the kitschy takeout side of the restaurant with a variety of sea creatures scattered along on the walls. Daily specials are scribbled on a chalk board in the front. Friendly, but stern looking folks with smocks and rubber gloves motioned for us to head to Halibuts II for a sit down meal.
Halibuts II is a Blues lounge furnished with a small bar, a drum set, a microphone and some tables. The walls were covered with photographs of jazz and blues musicians. There's a slight scent of stale smoke mixed with malt vinegar in the air.

(Above: Happy hour with a pint of Pabst Blue Ribbon and a Pina Colada. Happy indeed.)
We arrived at happy hour, a perfect time to sample what Halibuts II has to offer. We each ordered a basket of one piece fish and chips and three pieces of coconut prawns. Fish and chips wouldn't be complete without a cold pint of beer (Pabst Blue Ribbon on tap) and a Pina Colada.
The fish was great: crispy, lightly battered and gently seasoned. The fish itself was flaky and moist and quickly devoured. Although slightly under seasoned, the fries were addictive and tasty. The oddly flat shaped, skewered coconut prawns were good, but just a tad overcooked.

(Above: One piece cod and chips.)
Our bill including tips came to just under $22, which is just an insane bargain. The service was friendly and the food decently executed — definitely worth a a return visit.
Perfect for: Fish and Chips with a dash of Blues.
The Details
2527 Northeast Alberta Street, Portland
503.808.9601
halibuts.squarespace.com
— ♠ —