Earnest Ice Cream started from humble beginnings as a pedal powered mobile ice cream freezer showing up at local farmer's markets and festivals, to distribution at select Vancouver retailers, to finally opening their own scoop shop on the East side on Fraser street.
What's remarkable about Earnest Ice Cream is, well, just how unremarkable everything can be. You can't go wrong with old standbys like chocolate and vanilla, which the Earnest folks have managed to elevate to a chilling, velvet-like perfection. But it's the rotating seasonal flavours you need to keep your eyes peeled out for: flavours like Cardamom, Lavendar and Cranberry Walnut.
Their vegan options use coconut milk, churning out such tasty hues as Orange Creamsicles and Chocolate Peppermint. But their innovation doesn't end there. Colloborations with like-minded local shops have produced Matchstick Espresso Flake and 33 Acres of Malt.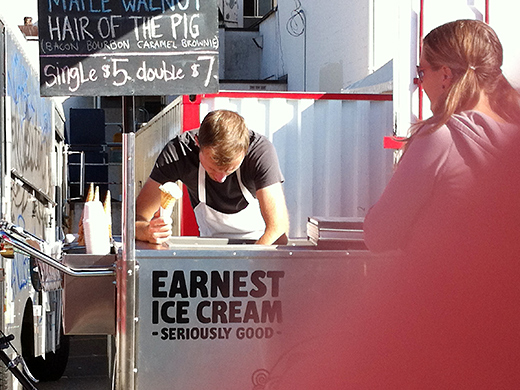 Expect a long wait on a hot, sunny day if you'd like a scoop ($5) from their Fraser street shop. Lineups can spill out the door and onto the sidewalk, easily delaying your ice cream hit for 15 to 30 minutes. Or, you can simply stroll on down to select local retailers that carry their pints ($11), in convenient, re-usable, returnable glass jars.
— ♠ —