[rating:4]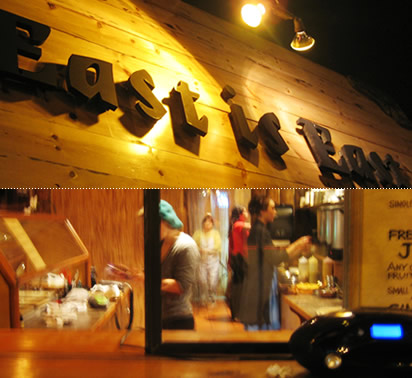 It's a Saturday night, and Tre and I are craving for a snack. We've past by this place called East is East a number of times before. You wouldn't think this place was a restaurant; it looks more like a wooden shack perched in the middle of Main Street. Indian music was blaring out of a little ghetto blaster on the counter–we thought it was pretty cool.
As we were reading the Chai Tea menu, and shivering since it was so freaking cold, this sweet lady — head wrapped in a Rastafarian-like beenie — pops her head out and asks if we would like to sample some Chai Tea. Although thankful for the offer, we politely declined — opting instead to simply place our order. As we continued to shiver, we noticed they also had Roti Rolls. Roti is a traditional Indian bread similar to a tortilla — which would make this like some kind of East Asian burrito. A hot cup of Chai and a deliciously filled Roti sounded perfect to me.
Tre and I ordered two Darjeeling Masala Chai teas and double Rotis to go. I got a Yogi's Treat Roti which consists of: chick peas, onions, tomatoes and herbs. Tre ordered the Mughal Roti, which has roasted chicken in a light Masala sauce. The Rotis come with a mini salad, yogurt mint sauce, and a shot of lentil soup. The Rotis are made with organic veggies and meats — a big plus for us.
The moment I bit into my Yogi Roti, a sense of calmness and excitement swept through me. It was awesome: fresh Roti bread filled with whole chick peas and butter curry filling. Tre's Mughal was really good too. The roasted chicken was very moist and tender and went perfectly with the Masala sauce. The Chai teas were — I have to say — awesome! They were spiced perfectly and piping hot.
All in all this was perfect way to end a perfect evening. We will definitely be returning, maybe more often than we really should.
The Details
4413 Main Street, Vancouver
604.879.2020
eastiseast.ca
3243 W Broadway, Vancouver
604.734.5881
— ♠ —