[rating:3]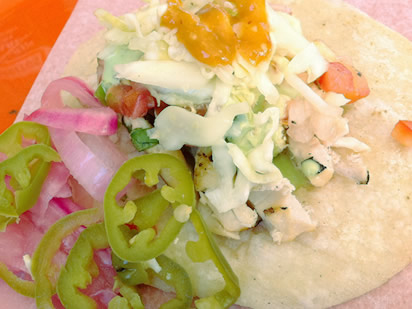 La Taqueria Pinche Taco shop has expanded their tiny downtown operation to a second location, primely situated on Cambie near the corner of Broadway. It's a convenient stop for Canadaline commuters craving bit-size, freshly prepared Mexican tacos.
Hopefully La Taqueria fairs better than the previous rotating shift of of unsuccessful tenants including a greasy spoon, Chinese, and Japanese restaurant. The Cambie location is certainly larger than the original, but similarly decorated in muted tones with splashes of bright yellows and pinks.

(Above: Unlike their Hastings location, the Cambie Taqueria has giant picture windows for loads of sun to shine through — whenever the sun decides to show up, that is.)
The menu is pretty straight forward, featuring a selection of meat and vegetarian tacos at $2.50 each, or $9.50 for a set of four. There's also a daily special that they switch up every once in a while that you can ask about.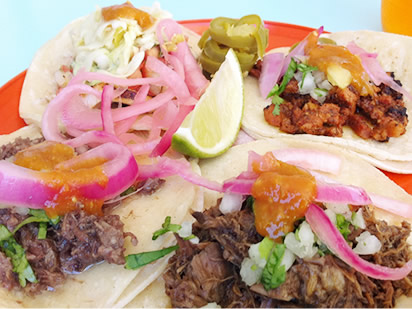 (Above: Clockwise from left to right: Fish Taco, Pork, Lamb and Beef Tongue.)
Case and I shared a set of four: Al Pastor (pork and pineapple), Lamb (the special for the day), De Lengua (braised beef tongue), and Pescado (grilled fish). The modestly portioned meats are beautifully cooked — the braised ones fall apart tender, and the fish nicely grilled — all gently seasoned.
The real joy is adding the fresh accompaniments like pickled onions, peppers, lime and a touch of one of their four house made salsas.

(Above: Fizzy, sugar juice.)
Our meal including taxes and tips and a bottle of fizzy, sugar juice came to around $14. It's a little bit pricier than other taco joints, and the portions certainly won't fill you up like Chronic Tacos a few blocks away. But, the carefully prepared meats and fresh toppings make these bite size tacos a refreshingly tasty snack.
Perfect for: a tasty taco alternative to the Chihuahua or cactus variety.
The Details
2549 Cambie Street, Vancouver
604.568.4406
lataqueria.ca
@LaTaqueriaYVR
— ♠ —