[rating: 3]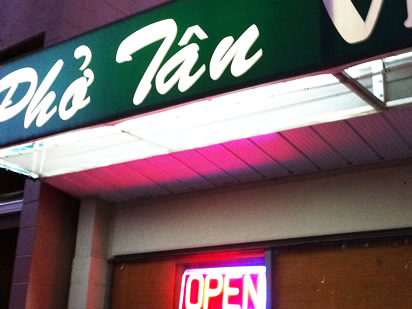 Pho Tan is a Vietnamese beef noodle restaurant that sits on that one block of Main Street that doesn't seem to be occupied by a hip new restaurant or clothing boutique. Instead, it hides on the corner of 30th and Main across the Volkswagen dealership and a bunch of electronics parts stores. 
Inside, the quaintly decorated interior feels exceptionally homey. Less restaurant decor, more somebody's aunt's house decor. In the back, a table of rawkus mid 40s Vietnamese guys were ordering up dishes and rounds of beer like they were celebrating a lotto win. Lucky for us, we get to sit next to them.

(Above: The special beef noodle soup with all the fixings and the distinctively scarlet hued rare beef.)
The menu boasts pretty standard fare for a Pho restaurant. I typically order the #1 — the house special beef noodle with all the different types of meat: flank, tendon, tripe and rare beef. It's a pretty good yardstick to gauge the quality of unfamiliar beef noodle restaurants. Pho Tan is generous with its meat portions, but the broth lukewarm and sweeter than I was accustomed to, and despite the dark hue, had less depth of flavour.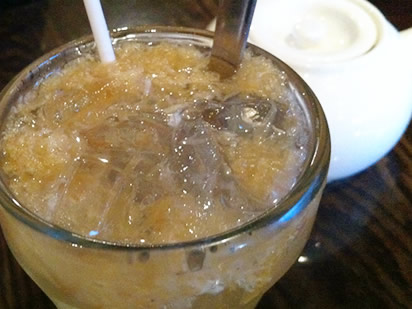 (Above: Salty Lemon Soda — a strangely sour, salty, fizzy beverage.)
Case ordered the Vietnamese crepes: flat rice rolls stuffed with minced pork, mushrooms and topped with greens, sprouts and served with Vietnamese ham. The crepes were decent albeit anemic with the filling. Our beverage of choice was a salty lemon soda, a strangely refreshing sour, salty and fizzy concoction.

(Above: Steamed Vietnamese crepes served with greens and Vietnamese ham.)
Our meal including taxes and tips came to around $25, which is about what you'd expect from your average Pho joint. Pho Tan appears to be a neighbourhood favourite, judging by the crowded parking lots. None of the dishes stood out as particularly outstanding, but Pho Tan serves as a decent beef noodle reprieve from Vancouver's rainy days.
Perfect for: Pho down on Main Street.
The Details
4598 Main Street, Vancouver
604.873.3345
— ♠ —