[rating:4]
We came to Habit Lounge to celebrate a friend's birthday. Habit is a restaurant style lounge located on Main Street. The outside wood paneling makes this a sleek looking spot; its minimalist style decor, designed with warm colors makes it a comfortable place to come and chill while enjoying some good food and drinks.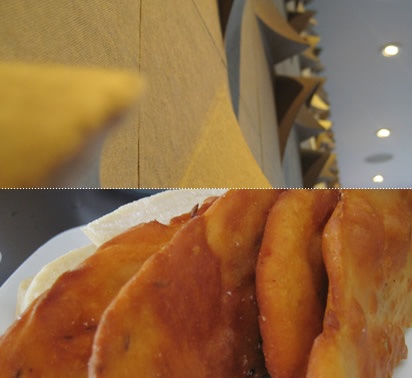 We've never been here before, so we decided to get a bunch of share plates and take it from there. We started off with Hummus two ways and house made breads. It was accompanied with moroccan olives and sesame with smoked red peppers. The texture was good — not too heavy and dense. The flavours were so awesome, though, we had to order a couple of more plates after we polished the first ones off in record time.
Next, we had yellow curried mussels steamed in coconut broth with tomato and Thai basil. The Mussels were good — nice firm texture, not at all rubbery. The coconut broth was well executed. We also tried Habit's take on the classic perogies: sweet carrot and cheese perogies with caramelized onions and chive sour cream. These are some big ass perogies — you could smack someone upside the head with one of them. Each of us ended up sharing half a perogie each. This seemed to be a hit and miss — the guys seemed to dig it, but the girls weren't quite so taken with the carb-injected pockets of sweetness.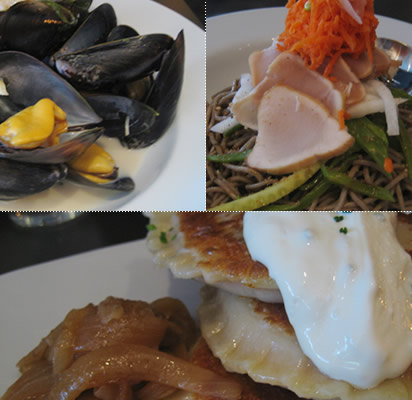 Next, the grilled lamb sirloin satay with masala mash, garlic spinach and tomato chutney. The lamb was grilled nicely — medium rare — and the masla mash was dope. Followed by pan roasted wild salmon with toasted sesame salt, soba noodles, asian vegetables and a citrus miso broth. This plate was the unanimous favourite: tasty, refreshing, cold soba noodles with oh so good miso broth. We also had a halibut dish, but it kind of sucked — lucklustre at best, so we won't mention it again.
We ended the marathon session with some dessert. Starting with gooey chocolate brownie with ice cream, apple cobbler with ice cream and creme brulee. All the desserts rocked harder than a pair of drunk teens with their fists in the air at a Metallica concert.
The Details
2610 Main St. Vancouver
604.877.8582
habitlounge.ca
— ♠ —