[rating:3]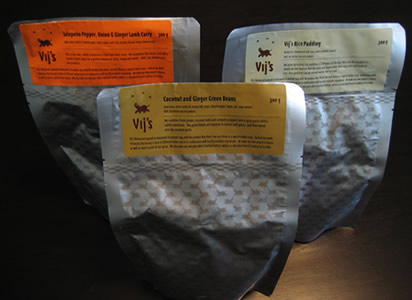 It's one of those days when Tre and I just don't feel like cooking, but we don't want the usual greasy take out items. It would be nice to eat some gourmet food at home without slaving over the stove, so we thought we would try Rangoli's for dinner. Rangoli's is a market/diner located right next door to the well known Vij's. This hip market diner has a variety of packaged frozen and refrigerated ready to eat meals prepared in these cool boil-a bags, which you just take home and heat up yourself. You can also order the items there and eat in the dining area, but it can get quite busy and space is pretty limited. The packaging is slick and is not typical for your average take out. They have a nice selection: different kinds of curried meats, veggies and desserts.
Tre and I chose the Jalapeno pepper and ginger lamb curry — tender pieces of lamb stewed in Jalapeno peppers and ginger curry. The lamb was not bad, tender and moist with a lot of flavour. I wasn't crazy about the coconut and ginger curried green beans. I like my green beans with a slight crunch, not soggy. Tre decided to make our own basmati rice since he does a pretty good job of it, but you can get a tub of basmati rice for about $5-$8 bucks. For dessert, we tried Vij's rice pudding. Neither of us liked it. We found the flavour a little overwhelming since the rice bits were pretty delicate. The flavour was good though — just a tad bit strong for us. I had a hard time finishing this dish. I don't think we will be trying it again.
Overall the food was ok. The flavours were good in all the dishes. We will have to head back and try a few more items to get a better feel. A slight downside is the items are a bit pricey for takeout. With items ranging from $8 and up, it could get costly. I guess that's what you can expect when it comes to gourmet food on the go.
The Details
1488 West 11th Ave, Vancouver
604.736.5711
vijsrangoli.ca
— ♠ —