[rating:4]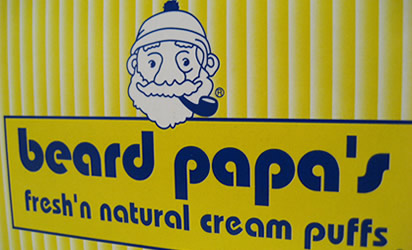 Beard Papa's is a sweet treat that was started in Osaka Japan. These tasty puffs come filled with flavored custard and sprinkled with a light dusting of powdered sugar. We had stumbled upon this place by noticing the huge line ups at Aberdeen's food court. Tre and I walk up to the counter and notice these deliciously cute looking puffs filled with cream inside. People were ordering them like crazy. At $1.75 a pop I found them to be a bit pricey. But the price isn't the only thing inflated, the sign posted on the front states that each cream puff is a mere 230 calories each. Yikes! That's a fair amount especially if you consider some people are likely to eat more than one. You're going to have to run around the entire seawall to burn off some of those puffs.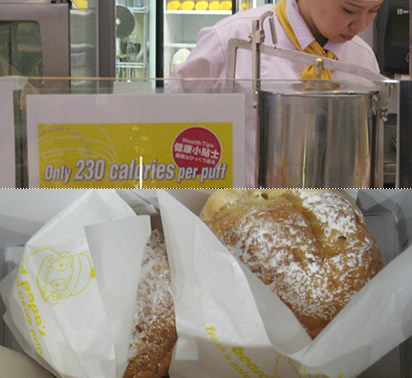 Tre and I ordered a couple of the vanilla creamed puffs. And I must say, I like these puffs. Normally, I'm not that big on custard — but I like these ones. The custard is surprisingly light and smooth. It has a slight vanilla milky sweetness to it. The puff itself is light and a little flaky. Yummy. We hate to admit it but Tre and I have been regulars lining up with the rest of the cream puff junkies. I guess we better start lacing up those shoes.
They have other flavours: chocolate, strawberry and green tea. But we haven't tried those yet.
The Details
4151 Hazelbridge Way, Richmond (Aberdeen Centre)
1184 Denman Vancouver (at Davie)
(604) 681-316
— ♠ —