[rating:4]
I especially like baked sweets. So when I heard about Bonchaz Bakery Cafe specializing in — Bonchaz, a baked milk bun topped with a hint of ground coffee baked fresh on site — I was on the prowl.
Bonchaz is a hip little spot that seems popular with students. Warm modern colors are used throughout providing a laid back ambiance. The shop is sparse and spacious with a few tables scattered about. Trays of ready to bake Bonchaz' are stored in special refrigerators.
Because we were with friends, we thought it would be a good idea to try all the different kinds of Bonchaz: the original with sea salt, Banana Walnut and French Truffle. The buns are delicious! The original is nice and light and the crumbly crust reminds me of a Chinese pineapple bun. I wasn't sure if this one was supposed to be topped with a hint of coffee, as I didn't taste any. But nonetheless, I was debating on whether to go back for seconds. Chopped walnuts added a nice crunch and texture to the outer crust of the Banana Walnut, while the banana filling was slightly sweet but not over powering. The French Truffle was decadent: topped with chocolate sprinkles, the gooey hot truffle was oozing out the centre. Eating it is one of life's guilty pleasures.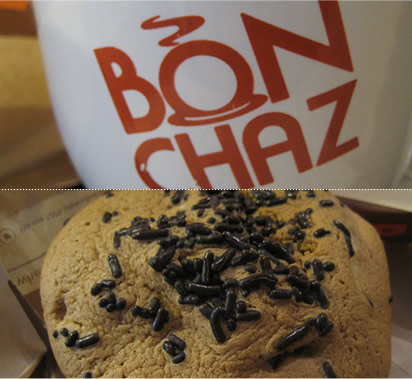 The Bonchaz's are under $2.75 a piece, depending on the flavor you get. We all enjoyed the buns and each had our favorites. Mike and Virg liked the banana walnut the best, Tre enjoyed the french truffle. And I, liked them all. And the service? Just like the buns–good!
Perfect for: a snack and coffee.
The Details
426 West Hastings Street, Vancouver
604.626.7215
bonchaz.ca
— ♠ —