[rating:5]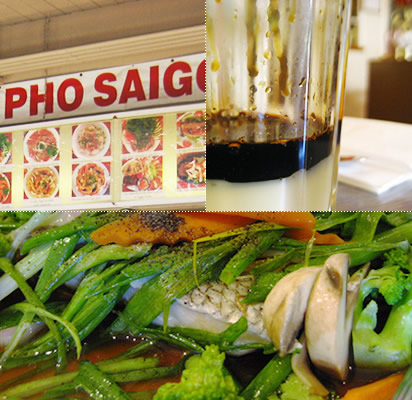 While in Maui, eating as much fish as possible is a no brainer. The fish here is fantastic and of course straight from the ocean. One of the best fish dishes we had was at Pho Saigon 808, located on Front Street, hidden inside a plaza next to a Mexican restaurant.
It's a small restaurant with printed pictures plastered on the outside wall to showcase some of their dishes. Inside are large grey booths and tables equipped with built in hot pot burners. Pho Saigon is a relatively small, but has a large patio deck outside for people to enjoy their meals in the open air.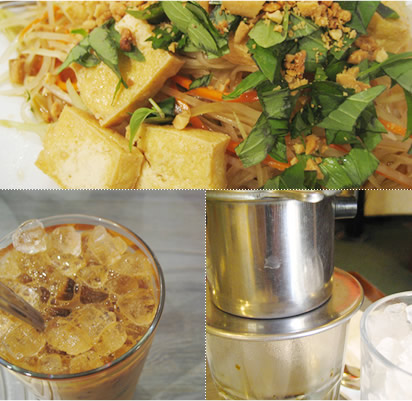 (Clockwise: 1. Green Papaya Salad with Fried Tofu. 2. The setup for Vietnamese Iced Coffee. 3. Vietnamese Iced Coffee. )
For our appetizer, we ordered a tofu and papaya salad: freshly cut slivers of green papaya, carrots, bean sprouts, garlic, chilies, and topped with basil, peanuts and tofu. The green papaya salad had a nice crunch and there were generous amounts of fried tofu. The fresh chopped basil leaves added a refreshing fragrant punch. And the dressing was amazing: fish sauce, lime, garlic, palm sugar and chilies to give the whole dish a kick. The tofu and green papaya salad was the bomb.

(Above: Steamed local fish — Opakapaka — Vietnamese style.)
For our entree, we shared a whole steamed local Opakapaka fish soaked in a light soy ginger broth, topped with green onions, sliced carrots and broccoli and a bowl of rice. The fish was fantastic! It was tender, yet firm and fell apart from the bone. It was steamed in a a perfect soy ginger broth providing a nice balance of salty and sweet.

(Above: Seafood Bouillabaise.)
We'd also suggest trying their seafood bouillabaise: a medley of fresh scallop, prawns, calamari, mussels and fish, all swimming in the classic, French soup base. Of course, Pho Saigon threw in an Asian twist to the dish, topping it with fresh green onions and adding a bit of chili, which was fine by us.
Our bill including taxes and tips came to just under $36. The menu prices are a bit higher at Pho Saigon than Vietnamese restaurants back home, but then so is with everything else in Maui. We've been to Pho Saigon 808 on a previous trip ordering the same dishes and we have yet to be disappointed. Highly recommended.
Perfect for: fresh Vietnamese seafood from the pacific, with a local twist.
The Details
658 Front Street Wharf Center, Lahaina
808.661.6628
— ♠ —