[rating: 5]
Despite its name, Belmont Station Beer Store and Cafe actually sits one block north of Belmont Street in a sleepy residential neighbourhood on Stark Street. Portland appears to have a trifecta of obsessions: food, coffee and beer. Belmont Station, home to a 1000 (that's right, 1000) beers is a temple dedicated to the latter — the worship of all things beer.

(Above: A bevy of taps on display at Belmont Station's Bier Cafe.)
On the one side, there's a Bier Cafe where you can sample a rotating tap of beers paired with a menu of snacks tailored specifically to whet the appetite for drinking beer. Unfortunately, the cafe wasn't open when we arrived, so we had to settle for wading through a sea of beers instead.

(A small collection of beer from Oregon breweries Deschutes and Upright Brewing.)
Belmont Station is a deceptively small shop. It certainly doesn't look like it could hold 1000+ variety of beer, but it does. What Belmont lacks in volume (don't be expecting to grab a crate of Bud here), it makes up in spades with variety. Of course they carry a nice selection of Oregon beers, but that selection also extends across the world from Germany to Italy, Scotland to Belgium. We picked up a number of Oregon brews to bring home: Upright Brewing, Deschutes, Rogue and Pale Horse.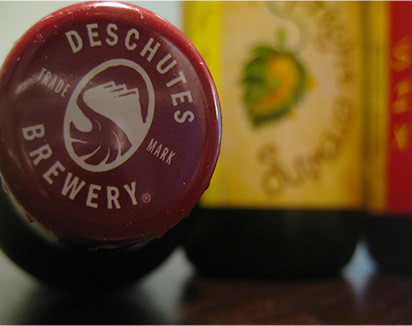 (An Oregon brew just begging to be cracked open.)
There's a cash discount, so if you put away the plastic you'll pay the lower of the two sticker prices displayed. The folks at Belmont Station are pretty chill people who like their beer, and enjoy talking about it. It's easy to get overwhelmed by the sheer volume of beers when you first step in, but take a moment to gain your composure. You'll be alright.
Perfect for: Homer Simpson… and anyone else who enjoys beer.
The Details
4500 Southeast Stark Street, Portland
503.232.8538
belmont-station.com
— ♠ —