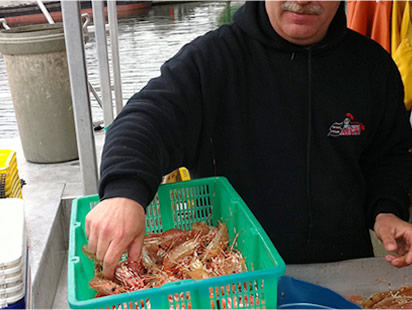 It's spot prawn season, and BC opened it up early May. The season is very brief (too short for our liking) lasting until late June. Spot prawn season, however, is usually accompanied by bouts of sunshine and shorts weather. So a bunch of us decided to celebrate both with a potluck featuring fresh, grilled prawns on the barbeque.

(Above: Barbeque BC Spot Prawns.)
There are many places to pick up spot prawns when they're in season. Just take a jaunt down to any seafood market and it will run you anywhere between $11 to $19 per pound depending on where you get it and how late in the season it is. We grabbed our prawns jumping straight off the boat from Organic Ocean at the Fisherman's Wharf right next to Granville Island.
This is our own simple preparation, which takes only a few minutes.
Ingredients
2.5lbs of live BC spot prawns (shell and head on).
2 to 3 teaspoon of finely minced garlic.
juice from 1 lemon.
pinch of salt & pepper
What to do
Combine garlic, salt, pepper and lemon juice with prawns.
Marinate for 10/15 minutes.
Snip off the antennae.
Throw them suckers on the grill for 1 minute each side.
Enjoy.
For some good tips on buying, handling and cooking BC spot prawns check out wildbcspotprawns.com. Be sure to follow Steve from @OrganicOcean on Twitter to get the scoop when the latest haul of "the love" arrives.
The Details:
Organic Ocean
Fisherman's Wharf
604.862.7192
@OrganicOcean
1505 West 1st Avenue, Vancouver
organicocean.com
— ♠ —