[rating:3]
Zipang Sushi is a quaint little sushi spot located right in the heart of the bourgeoning Main Street neighborhood in Vancouver. The walls are curiously decorated with framed Bauhaus posters, and furnished with mismatched, 70s seating — a certain blend of bohemian and Japanese flavours. If Main Street were to produce a sushi restaurant, Zipang Sushi would certainly be the result.

(Top to bottom: 1. Assorted Special Sushi. 2. Tea in a rustic, chunky earthenware cup.)
We ordered the Special Assorted Nigiri Sushi, the Cactus Roll, and the Panko Assorted Fries. The sushi here is pretty solid, well prepared with a good balance of rice and fish. The Toro (tuna belly) was buttery as expected, but the chopped scallop was only so-so. Straight from the Chef's Recommendation menu was the Cactus Roll — a slight twist on the classic California roll as the entire inside out roll was completely encrusted in toasted sesame seeds and bits of fried tempura, which added that extra bit of crunch. It really felt like we were eating cactus — not that I know what cactus tastes like.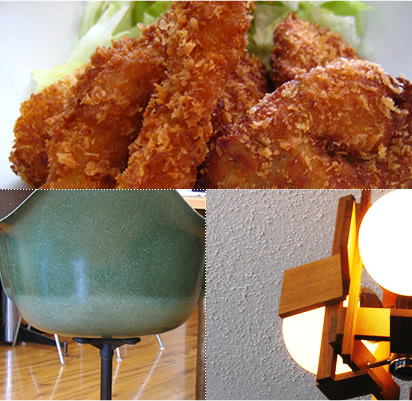 (Clockwise: 1. Panko Assorted Fries: Oyster, Prawn and Corquettes. 2. Lighting. 3. Retro Seating.)
Finally, the Panko Assorted Fries were simply an assortment of Prawn, Oysters and Potato Croquettes battered and dredged in Panko bread crumbs and deep fried. The Panko bread crumbs gave these deep-fried delicacies a nice, light but distinctive crunch while sealing in all the flavours. Our meal came to $35 including taxes and tips, which isn't too bad. The tea was always hot and the service was relatively attentive, but in a sushi town like Vancouver, Zipang Sushi has its work cut out for it.
Perfect for: Sushi break while shopping the Main Street strip.
The Details
3710 Main Street, Vancouver
604.708.1667
— ♠ —