!

The short-lived Fathom has since closed and been replaced by the casual Thai eatery, Longtail Kitchen.
Re-up BBQ's food cart has received the lion's share of press for their ventures, and their first bricks and mortar opening in New Westminster was celebrated in similar fanfare. But next door to their River Market location, a new project was quietly underway: the reincarnation of the Crab Shack into Fathom — their homage to the deep sea fried up in all sorts of crispiness.
The paint job barely dry, drop cloths still tucked away underneath some workbenches and with no real working till — Fathom still felt unfinished. But, the kitchen was up and running; the menu small — starting with a selection of expected fish and chips in various configurations: cod, halibut and salmon.
What caught our eye, however, were the Po' boys. The calamari Po' boy had perfectly deep fried rings of squid piled onto a soft Portuguese bun slathered with mayo, some greens and a rasher of that famous, smoky Re-up BBQ bacon. The accompanying fries were a little overdone yet still limp, but as a work-in-progress that was later remedied when they switched out the potatoes.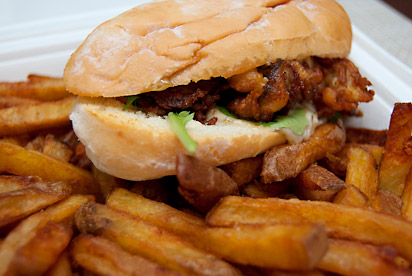 Take that same formula and swap out squid for deep fried, tender oysters and you have Fathom's oyster Po' Boy, an equally pleasing tribute to shellfish in a bun dressed in the same greens and sauce.
We could see a similar potential in their fish and chips: a generous helping of fresh cod that was unfortunately cut way too thick. The batter was nice and crispy, but squeezed the fish out the moment your teeth sunk in. The thickness, unfortunately meant large portions of the fish were dried out from overcooking, while others were moist and tender. The fish lay atop a pile of yukon gold fries — not quite crispy, but tasted sweet and earthy.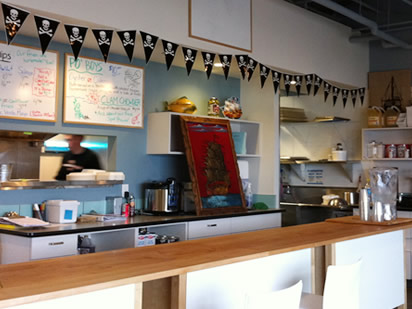 Each Po' Boy will run you about $10 each, while a two piece cod and fries will take you for $12 plus taxes and tips. It's still early on in the game for Fathom, so they have time to iron out the kinks in their fish and chips, and we've yet to try the curiously named Japanese Poutine. For now, we're happy to sink our teeth into either of their Po' boys.
Perfect for:Â Portable seafood at the Royal City.
The Details
116 – 810 Quayside Drive, New Westminster
778.397.2440
@FathomSea
— ♠ —