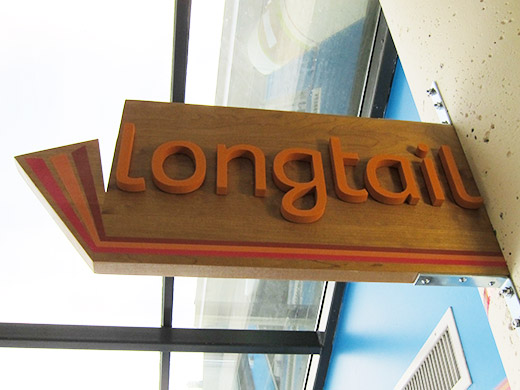 Longtail Kitchen has landed at the food courts of New Westminster's River Market — taking over the space once occupied by the short-lived Fathom. Maenam's Angus An brings a slightly more casual take on Thai cuisine to the Royal City.
Inside Longtail, the minimal decor is anchored by a wall of Southeast Asian trinkets to one side, a glass fridge covered by discarded Asian newspapers and lit by spherical paper lanterns.
The menu is quite small, no more than a dozen items, with some familiar items to Maenam regulars. The Pad Thai is artfully executed: rustic fried rice noodles tossed with oversized prawns, tofu and sprouts in tangy tamarind sauce.
The crispy fried oysters also make an appearance, lightly battered and delicately fried and served with a side of homemade nam jim sauce.
Also a holdover from Maenam's menu is the crispy papaya salad mixed with finely julienned papaya, carrots, tomatoes and beans with a dusting of peanuts and a spicy, tangy dressing.
The chicken wings — another Southeast Asian street food staple — are lightly battered (likely tapioca starch), and flavoured with the holy trinity of salty, sweet and sour marinade.
Finally, Longtail takes a half Cornish game hen, dusts it with rice flour and grills it over open flames giving the chicken a crispy, yet beautifully smoky flavor.
Dishes at Longtail will run you anywhere between $6 and $12 dollars. You won't find too many Thai joints doing it like this in New West, or even Metro Vancouver for that matter. Simple, tasty and reasonably priced.
— ♠ —