!

Since the original posting of this article, Eataly has since closed and the Italian restaurant, L'Antipasto has opened in its place.
Eataly is a Bread Garden-esque cafe with an abbreviated selection of soups, sandwiches and pastries. Taking over the space that Mexican chocolatier Chocoatl once occupied on Mainland Street, Eataly gives lunchers in Yaletown yet another option.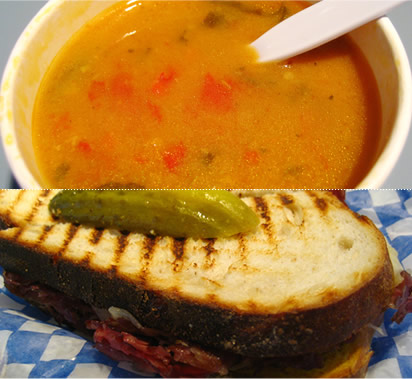 (Top to bottom: 1. Cocunut Chicken Soup 2. New York Reuben Sandwich.)
Once you get past that horrible pun for a name, you step onto the nicely tiled floors of Eataly's limited dining area. Two seater tables with thin slabs of marble tops to one side of room, while a barely three seater bar with stools face the other. You are greeted with a hearty "Hola," from the portly Mexican proprietor before you place your order.
The selection here is limited: a fridge full of brownies, cookies, miniature bit-size croissants and the cafe's mainstays, the sandwiches. The New York Reuben is a favourite, freshly sliced pastrami thinly piled with swiss (sometimes havarti) cheese and sauerkraut on a sourdough bread, then toasted and grilled on a panini press.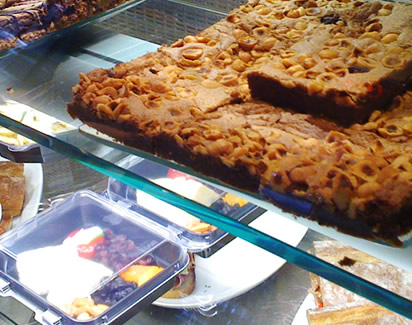 (Above: Eataly keeps their fridge stocked with a selection of pastries, miniature fruit and cheese platters, and sandwiches.)
The sandwiches go well with a side of daily soup: the Coconut Chicken is well-seasoned, flavourful. The coconut milk provides a hearty base while the Eastern-influenced spices leap at your tongue. The vegetable soup is equally hearty, a perfect way to beat Vancouver's rain, if only for a few minutes. Coffee's not bad as well.
Soup and sandwich will set you back about $12 including tax and tip, which is a bit pricey for the rest of the city, but about what you'd expect from Yaletown. Avoid this place if you're in a rush. The service, although friendly, is a bit lethargic.
Perfect for: simple, rustic soup and sandwich in the heart of Yaletown.
The Details
1127 Mainland Street, Vancouver
604.568.5999
— ♠ —