[rating:3]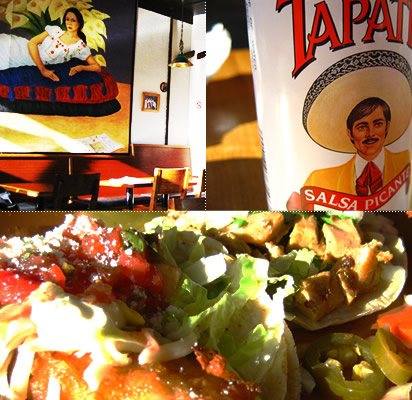 Located in Portland, Oregon's Alberta Arts district, La Bonita is a no frills Mexican Taqueria that serves hearty portions at a good value. During part of our Portland excursion, a bunch of us wandered in for an early brunch.
The Taqueria is charming with colorful Mexican decor and open space. The restaurant is self serve. A large menu hangs above the counter on a chalk board. You order, are given a number and then wait to be called.
Tre orders Huevos Con Chorizo: a traditional Mexican sausage with 3 scrambled eggs, rice, beans and two corn tortillas. I wanted something light for breakfast, ordering a veggie burrito with black beans, rice, cheese, pico de gallo and lettuce. Surprisingly (and disappointingly) La Bonita's does not serve coffee. In place of the caffeine fix that we so needed, we had a can of Jumex mango nectar juice.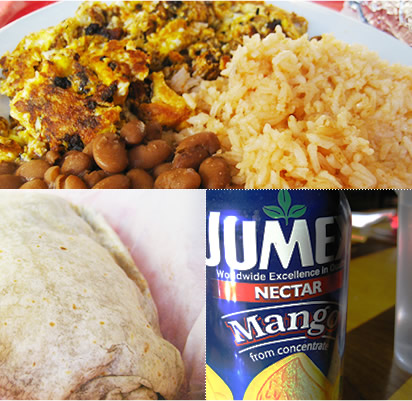 (Clockwise: 1. Heuvos Con Chorizo with rice, beans and tortilla. 2. Mango Juice. 3. A big, honkin' veggie burrito.)
The portions at La Bonita were gigantic and we were all dipping into each others dishes for a taste. My veggie burrito was humongous, but unfortunately was a bit boring and soggy. It lacked flavour. I had to add hot sauce (which I don't normally do) in order give the burrito some life. Tre's Huevos Con Chorizo, on the other hand was tasty. The Chorizo added a nice spiciness and saltiness to the fluffy, scrambled eggs. The tortillas were soft, flavourful and served wrapped in tin foil.
Our bill including tip came to $16, a good deal in Portland considering what you get. We all agreed La Bonita isn't one stop we'd go out of the way to seek out, but if you happen to be in the area and looking for a nice, greasy spoon Mexican breakfast, La Bonita's might just hit the spot.
Perfect for: hearty Mexican breakfast after a hard night's drink.

The Details
2839 Northeast Alberta Street, Portland
503.281.3662
— ♠ —