[rating:2]
: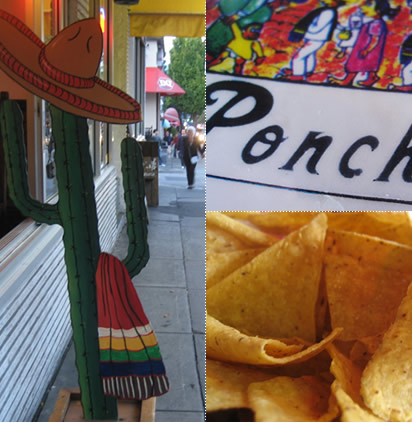 (Clockwise from Left to Right: 1. Nothing says authentic Mexican food like a cactus wearing a sombrero. 2. Ponchos Menu. 3. Complimentary nachos.)
Poncho's is a Mexican restaurant located on Denman Street that offers mediocre food, but one hell of a great margarita. They have great a view of Denman. If you're lucky to get seated in front of the open window, take advantage and enjoy your meal and people watch at the same time. In the summer months, when Poncho's opens up the window, you feel like you're eating outside on a patio even though you're not.
Poncho's is a cozy little restaurant, with quaint, Mexican decor and lively background music. We had high hopes for this place. How can you go wrong with a name like Poncho's? We kicked it off with a few drinks to start: a beer for Tre and a margarita for me. The margarita was awesome — I was sucking this baby down. What a great way to start a meal… but when the food finally arrives, we were disappointed.
(Clockwise from Top to Bottom: 1. Salsa. 2. Corona is the Cerveza of choice. 3. Rice and Beans sprouting two tortilla ears.)
We ordered chicken enchiladas and a beef taco salad. Our meals took a long time. Other people who were seated after us were served their meals before us. That's annoying. After waiting 20 minutes, the margarita starts to hit me. I start changing to a shade of cherry and Tre is getting a little concerned. Luckily our food arrives and we dig in. Unfortunately, both our dishes arrive lukewarm. Tre's chicken is paper dry and a little pool of water had formed underneath my meal from the drenched lettuce. Both dishes were quite bland and lacked any of the excitement we expected from Mexican cuisine.
(Clockwise from Top to Bottom: 1. Birdie on our table. 2. Kick ass Margarita. 3. Rice and Beans, also with a pair of tortilla ears.)
Poncho's seems to be popular with tourists and some of the locals. We hope Poncho's was just a victim of an off day. The service didn't seem to be a priority, and the food — slightly below average. Our hunt for great authentic Mexican food continues. At least Poncho's has the margaritas in the bag.
The Details
827 Denman St. Vancouver
604.683.7236
— ♠ —