!

Since our original posting, Fat Dragon has closed down.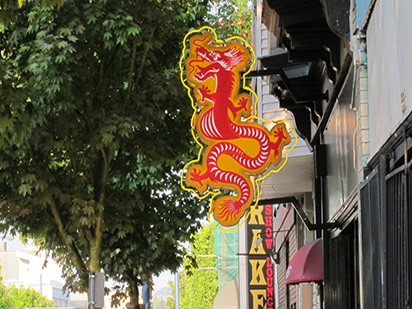 A Fat Dragon has landed in East Vancouver's Strathcona neighbourhood. Fusing barbecue from the American South and stoking it with Asian Flavours, the latest outing from the same folks at Campagnolo and Campagnolo Roma add a stylistically modern eatery to an otherwise forsaken part of town.
While the light from the street spilled in from the windowed front into the deep cavernous dining room flanked to one side by a bar, a large, intricate wood scaled dragon loomed on top keeping earnest watch over the diners.
We started the evening with two Bao Buns: remarkably soft and pillowy Chinese sweet buns folded in half and stuffed with pockets of flavour. The first, a smoky and crispy tofu garnished with bean sprouts, pungent kimchi and a dash of light soy. The second, an equally crunchy offering of fried squid topped with fresh scallion, cilantro and smoked chili salt. A good start.
Next, a familiar green papaya and cabbage salad whose garden fresh crispness was otherwise drowned out by the overpowering tartness of lime dressing. This was quickly rectified with a plate of slow cooked lamb ribs —- smoky, tender and sweet from the orange, char siu marinade.
Rounding out our meal was a plate of tasty, yet ordinary pan friend long beans in a mild sambal, topped with crushed peanuts, and accompanied by a cold draft of Campagnolo's own crisp ale.
Our evening ended with a creamy coconut rice pudding enhanced by the crunchiness of caramelized white chocolate and smothered by a blanket of mango.
All total, our meal came to $62 including taxes and tip. The staff at Fat Dragon were lackadaisically amiable and some dishes, particularly the veggies, could use a little bit more love, but what love was lost was easily found in their barbecue.
Perfect for: a little taste of the Deep South and East Asia on the downtown eastside.
The Details
Unit 100 – 566 Powell Street, Vancouver
604.558.0880
fatdragonbbq.com
@FatDragonBBQ
— ♠ —