[rating:4]
Campagnolo is a casual Italian restaurant located on Main street, just on the the outskirts of downtown Vancouver. Setting up shop next to the likes of the Ivanhoe in a still developing area is either a sign of foresight or craziness, or perhaps little bit of both. As we walked from our parked car, we were quickly accosted by a local who was delirious over the apparent double rainbow that was happening early in the evening. No, it wasn't this guy, and yes — we aren't pulling you're leg.

(Above: Grill Octopus, radicchio and fennel salad.)
Campagnolo is a beautifully decorated restaurant — modern design with classic material. Wood beam structures were a common theme, finding its place on the walls and the atrium. Case and I found ourselves at the lounge in the back with a view of the double rainbow phenomenon fading away into the early evening.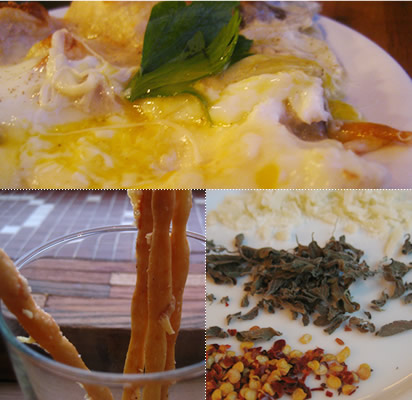 (Clockwise: 1. Pizza carbonara. 2. Parmesan cheese, dried sage and dried chilies. 3. Cheesey breadsticks.)
Rustic Italian dishes, with a focus on homemade pastas and simple pizzas, make up most of Campagnolo's menu. Case and I began with the grilled octopus, radicchio and fennel salad. Served warm, the fragrant greens were lightly dressed and the gremolata added an extra crunch. Although the octopus had a beautifully charred flavour, it was a tad bit tougher than we expected.
Next, tagliatelle with a pork ragu arrived smothered in a blanket of pecorino cheese. The al dente pasta was gently tossed in the hearty pork ragu. Despite the beautiful flavours, we found ourselves chewing clumps instead of shreds of pork.
As for the pizza, we opted for the carbonara: smoked provolone, lardon, chantrelle mushrooms, onions and an over easy egg served atop a fluffy, yet crispy pizza crust. For us, the pizza was the star of the evening as the pillars of decadence: provolone, lardon and egg combined perfectly to produce something special.

(Above: Zeppola — an Italian doughnut with apple compote and cream.)
We finished off with two cups of americano and a zeppola — an Italian doughnut dusted with sugar, filled with cream and swimming in a cream sauce.
Our meal came to just under $70 with taxes and tips. The beautiful, yet unpretentious atmosphere inside Campagnolo is a stark contrast to the neighborhood just outside its doors, but we suspect that just adds to its personality.
Perfect for: rustic, Italian dishes served in the wilds of Vancouver.
The Details
1020 Main Street, Vancouver
604.484.6018
www.campagnolorestaurant.ca
— ♠ —