[rating:4]
The Canada Line construction has claimed many victims over the past couple of years. Some small businesses have closed down, never to open again. We were horrified when a notice of temporary closure appeared on the front door of one of our favourite spots, Cafe Gloucester. It claimed that the close was temporary and that they would return when the construction was complete. We were doubtful and were resigned to the possibility that we would never dine there again.
During the long weekend, Tre and I were driving down the Cambie corridor when we happened to notice some legs hiding behind some window shades at Gloucester's. We were ecstatic to see Gloucester's make a comeback. This was one of our favourite spots because they have awesome specials before 6pm and after 9pm.
Gloucester's is what is known as a Hong Kong Cafe. Typically, Hong Kong Cafe's have a mixture of traditional Chinese dishes (i.e. fried rice, noodle in soup), but are more famously known for Western dishes that have been given a Hong Kong twist — such as baked seafood over rice, or Asian mixed grills. The dishes are all familiar, but aren't made quite exactly the same way.
The Return
We were excited and wanted to see if the food is as good as it was before or if the magic had been lost. We could see a bunch of Asian folk driving around the block looking for parking — a good indication that others too, know that Gloucester's has reopened. If a restaurant is good, Asians will travel far and wide at any time of the day to find it.
We walk in and the dining room is fairly packed. We didn't recognize any of the staff, but that's unsurprising — the staff couldn't possibly be expected to wait until the construction was complete to return to work. The hostess was pleasant and seated us down by the window; a good start. We like to sit by the window and people watch while we dine. It makes for an interesting experience. The restaurant was nice and clean and the wait staff were pleasant and helpful. I'm liking it here, I'm thinking. The service wasn't really the best prior to the reopening. Often times we'd see the Host try to mack on the waitress' — ignoring the customers. Of course, it's the food that keep people coming back, not the service. But still, it's a nice to get good service for a change.
The Menu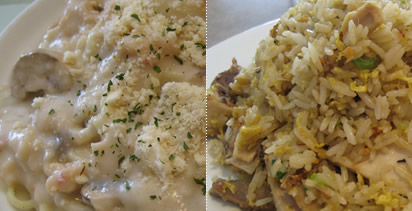 The menu hasn't changed much, except for a few new ones. Tre decided to order the beef brisket and noodles soup. I wasn't sure if he should have ordered it since last time we were here, the broth wasn't all that great and the noodles looked like that of the instant variety. But this time the waiter gave us a choice of noodles, which was never offered to us before — so that was kind of sweet. I ordered the baked fish with spinach and cream sauce. I like the baked western style dishes. They tend to be on the heavier side, but the combinations they conjure up are quite tasty.
Once Tre's soup arrives, we both agreed the broth has improved. Not too heavy or light. You could taste the stewed beef in the broth which was so tender it was falling apart. And the noodles were actual noodles this time. My baked fish, however, was taking its sweet ass time. We weren't sure if the chef had to go to the lake and catch it himself — but it was definitely taking awhile [ed: for future reference, the menu indicates that any baked rice dishes take approximately 20 minutes to prepare, so adjust appetite or temperment accordingly]. When it finally arrives, the first thing I notice is the huge portions. The dish looks good but the portion size has doubled and I was a bit overwhelmed. As I dig in I noticed that a whole fillet of fish covered the entire dish. Not those little chunks of fish like most Hong Kong cafe's, but the whole fish. And it is delicious. The rice is salted nicely, there was just enough cream sauce and the fish was baked perfectly.There's nothing worse than an overcooked fish. It was just a tinge bit cheesy for me but only because cheese doesn't sit too well with me.
As we sat there waiting for our doggy bag, we glowed in the overall positive experience. Tre and I are pleased that Gloucester's hasn't fallen off — and appeared to have made some improvments to boot. We'll defintiely return as regulars again. Hopefully, once the construction is done, more folks can come and help keep Gloucester's thriving.
The Details
3338 Cambie Street, Vancouver
604.873.3338
— ♠ —