[rating:2]
We stumbled upon Fu Lin, a Chinese restaurant on the edge of Front Street, passing by it severals times during our visit. I don't think Maui is really known for good Chinese cuisine (Honolulu might have that distinction), but we were curious nonetheless.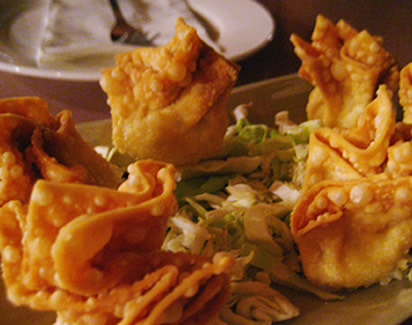 (Above: Deep fried, cream cheese wontons. Yes, cream cheese.)
The restaurant was cavernous, spacious with very few walls for dividing — basically an open dining area with tables and seats on concrete flooring. We were seated outside on the patio, which provided a beautiful view of wayward cars passing by a tiny side street while we dined in the cool, evening breeze.
We honestly had no idea what to order, so quickly dispatched with the house special fried rice and some stir fried vegetables with seafood. Our more adventurous side got the better of us as we eyed and then subsequently ordered what appeared to be a local concoction: deep fried cream cheese wontons. We would later discover that cream cheese wontons appeared on the menus of various Asian restaurants throughout Maui (anyone have the scoop on that?).

(Top to bottom: 1. House special fried rice. 2. Seafood with mixed seasonal vegetables, aka chop suey, aka leftover vegetables bits.)
The fried rice was decent — nothing special, although a bit on the greasy side. While the seafood and mixed vegetables were competently flavoured, the presentation looked like vegetable scraps tossed together helter skelter. The cream cheese wontons, however — those were just downright evil. We were cursing ourselves the whole time we took a bite because deep down we knew there was nothing right about this dish — but it tasted so good.
Our meal came to $45 including tax and tips, which put this meal on the pricier side. We enjoyed dining on the patio, but the food was mostly mediocre with the exception of the deep fried cream cheese wontons.
Perfect for: deep fried, cream cheese wontons followed by post-dining shame.
The Details
1312 Front Street, Lahaina
808.661.7071
— ♠ —