[rating:3]
Commune Cafe is like a breath of fresh air amongst the forest of condominium skyscrapers on the edge of Yaletown. Sitting all by its lonesome on the corner of Seymour and Nelson, Commune serves up an array of sandwiches, salads, cheeses, local craft beer, and coffee.
Inside, a long communal table runs the length of the dining room, booths occupy the outer walls, while an outdoor patio awaits sun seekers (forecast pending). A long bar up front triples as a cafeteria-like ordering area, till and coffee bar all in one.

(Above: 1. Breakfast Sandwich, 2. Outdoor dining.)
Case and I ventured out early for breakfast — Case ordering a smoked salmon sandwich, while I opted for the breakfast. The smoked salmon sandwich had a collage of beautiful frisee, smoked salmon and cream cheese, served on a soft, sweet bun, which really reminded us of the type of dinner roll you'd get at a Hong Kong style cafe.
The breakfast sandwich was a nicely seasoned turkey sausage patty with scrambled egg served similarly on that familiar soft, sweet dinner roll and grilled on a panini toaster. The food was good, but the small portions only amplified the loneliness of the sandwiches with no sides to be had.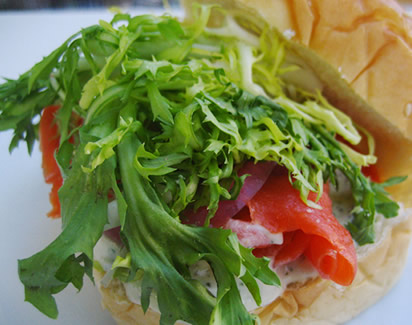 (1. Above: Smoked Salmon Sandwich.)
At just over $20 including two coffees, taxes and tips, Commune felt a bit pricey. The flavours are certainly good, but I think it's still too early to judge if we'd consider Commune a go to joint.
Perfect for: bumping into other Yaletowners attempting to avoid bumping into other Yaletowners.
The Details
1002 Seymour Street, Vancouver
604.681.2551
communecafe.ca
— ♠ —