[rating:4]
What's deep fried, light, airy and incredibly sweet? Krispy Kreme Doughnuts, that infamous US franchise opened up a location in Delta a few years ago. Their speciality? Doughnuts that look like mini alien space ships. 
The Krispy Kreme Doughnuts shop is reminiscent of a 50s diner with old school, classic signage out front and an interior that compliments. The light coloured walls and colour coordinated tiled flooring make the space airy and fresh. The high back, cream colored, leather diner booths and low, warm lighting is inviting. Their factory is in the back, where all the doughnuts are made in house. You can watch the guys and gals in the back doing their thing on a cartoon-like conveyor belt of donuts being dunked, glazed and laid to rest.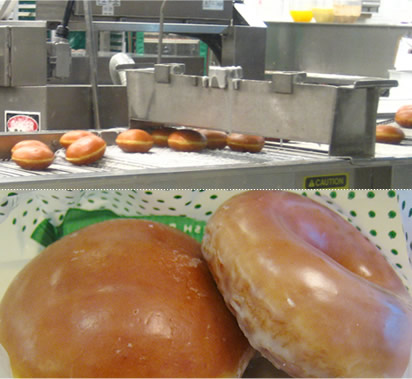 (Above: 1. Doughnuts getting a sugary glazed shower. 2. The Classics, glazed and cream-filled glazed.)
We ordered three doughnuts: original glazed, a glazed cream filled and powdered strawberry, plus two small coffees. Our friendly server plucked a fresh original glazed doughnut right off the conveyor belt instead of the ones displayed in the front. It was nice and warm: light and pillowy on the inside, and the outside had a nice little bite from the glazed shell. Tre's glazed cream filled doughnut was just as good, but extra sweet with custard-like cream on the inside. The powdered strawberry wasn't all that interesting and tasted a bit stale.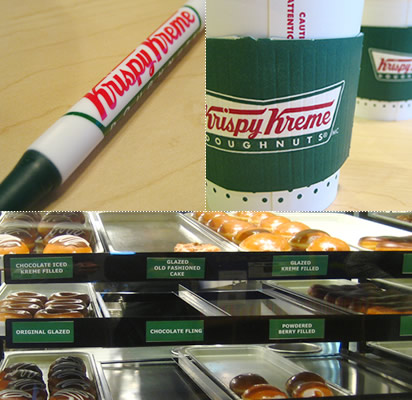 (1. Krispy Kreme Schwag. Nothing says doughnut like a ballpoint pen. 2. Doughnuts and coffee are like peas and carrots, except the exact opposite. 3. Doughnuts displayed for your oogling pleasure.)
Our bill including taxes and a novelty pen came to just under $8, which is cheap. The service was very friendly and efficient, which was a nice surprise. While you're there, be sure to press up your nose against the glass to watch as the doughnuts are being made.
Perfect For: A serious sugar rush.
The Details
7153 120th Street Delta
604.507.8803
krispykreme.com
— ♠ —