[rating:3]
We stumbled upon Ward's Farmer's Market by accident in Honolulu. Their big green Farmers Market sign caught our attention while driving by. The market is located across the street from Ward Centers in a parking lot with a mish mash of a kiosks serving cooked food, a jewellery stand and Lin's Hawaiian snacks.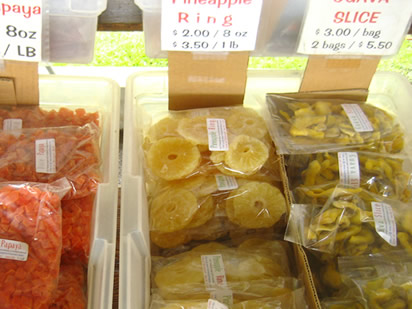 (Above: Rows upon rows of dried fruit snacks at Lin's at the Farmer's Market.)
People were sparse when we arrived at the market and it felt disorganized. A two person band was strumming some beats and singing while unconcerned shoppers walked by paying little attention. We occupied most of our time under the tent of Lin's Hawaiian snacks. He had tables and tables of rows of baskets of neatly assorted preserved goodies such as fruits, nuts, seafood and special sea salts.

(Above: crispy, dried green beans from Lin's at the Ward Center Farmer's Market.)
We walked away with a bags of goodies: macadamia popcorn, hot cuttle fish, two bags of Hawaiian sea salt, dried green beans, and spicy Marlin teriyaki–a fish jerky. Most of the snacks were decent and familiar, but I found the Marlin weird and tough to chew. The flavour and texture was surprisingly similar to Chinese beef jerky, but ten times harder to chew with a bit of a fishy after taste.

(Above: Macadamia Popcorn — tastes like regular candied popcorn.)
Our snacks including two bags of Hawaiian sea salts came to just under $35. Not the cheapest considering the amount in each bag we got, but a fun experience nonetheless. If you're in the area, the parking lot of Ward's Market is worth the visit. You never know what you might find.
Perfect for: dried snack goodies.
The Details
Ward Centers Parking Lot
Auahi Street & Kamakee Street, Honolulu
Every Tuesday, 9am to 1pm
— ♠ —