[rating:3]
Fresh Catch is a fish market in Honolulu's University district that also doubles as a restaurant and take out joint. The unassuming shop sporting a smiling octopus and smokey windows appears dodgy from the outside, but the food inside is fresh, simple and tasty.

(Above: Fresh Tuna Poke with two scoops of rice.)
Inside, Fresh Catch indeed resembles more a fish market than restaurant — the front fridge filled with buckets of seafood for the picking overseen by a creepy Captain Highliner-like figure. All the patrons passing through opted for takeout rather than the nautical picnic setup in the dining area.
Everything on the menu looks like picnic-ready grub, from the meaty plate lunches to the sauteed shrimp and seafood sandwiches. We sampled the fried tuna poke. Which, instead of the traditional raw fish, features lightly seared chunks of tuna swimming in Fresh Catch's own soy, sesame oil, chili and onion soaked poke sauce and served with two scoops of rice.

(Above: Old man captain highliner keeps watch over his fishy friends.)
Our poke was accompanied by a crab sandwich: generous shreds of fresh crab meat tossed in mayo in a super soft hoagie topped with lettuce and tomatoes. The crab salad tasted a bit under seasoned, but the the sandwich was a delight to eat as each pillowy bite was rewarded with a meaty chunk of fresh crab.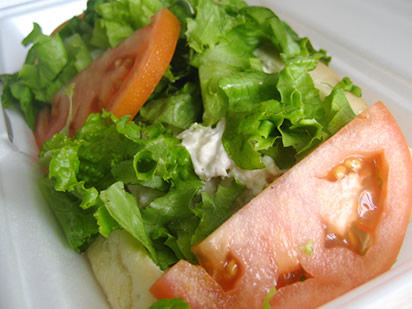 (Above: Big crab salad sandwich on a soft hoagie topped with lettuce and tomatoes.)
Our meal came to under $17 with taxes and tips — good value for fresh, simply prepared food on the go.
Perfect for: seaside picnic on the go.
The Details
3109 Waialae Avenue, Honolulu
808.735.7653
freshcatch808.com
— ♠ —