[rating:4]
The line ups form early at Portland's Tin Shed Garden Cafe, a hippie-like breakfast joint that boasts all the right, earth-friendly buzz words: organic, free range, local, and hormone-free. They even compost their own leftovers. All good qualities, but we suspect the customers line up for more than just the good will.
If the wait hasn't completely spilled out into the sidewalk, put your name down — grab yourself a coffee and relax amongst all the other eager patrons. It'll probably be another 1o to 15 minutes.

(Clockwise: 1. The Good Dog — potato cakes topped with a whole bunch of stuff. 2. Aardvark hot sauce. You see this stuff everywhere in Portland. 3. Homemade Biscuits.)
Inside, The Tin Shed is like a summer cabin with casual furnishings, cluttered tables and coffee served in mismatched novelty mugs. I got one bearing the Ace Hardware logo. The menu is composed of whimsically named breakfast items like Roll Over, Rosemary's Gravy Baby, and Heartless Artichoke.
I had one of their potato cake stacks, the Good Dog: shredded potato cakes stacked with a mountain of sausage, jalapeno, bell pepper & onion scramble, and smothered with cheddar cheese, salsa fresca, sour cream and drenched in Tin Shed's own chipolte sauce. It arrives looking like a messy pile, devoid of shape and reason — deceptively disastrous looking. But the fresh ingredients and flavourful sauce sing through the chaotic noise on the plate. Add a homemade biscuit on the side and you have yourself a remarkably hearty meal.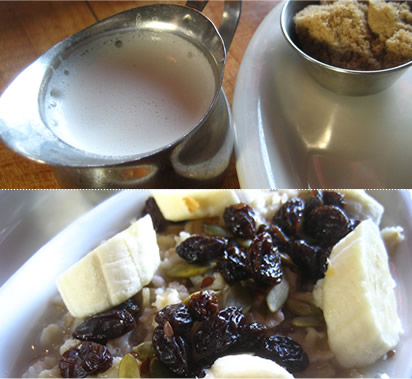 (Top to bottom: 1. All the fixings for a good oatmeal. 2. How could you not love a dish called the Tummy Warmer?)
Case wanted a reprieve from all the deliciously heavier meals we've been having on our Portland escapade, and noticed an oatmeal dish adorably named the Tummy Warmer. This is no run-of-the-mill oatmeal, though: piping hot and topped with fresh bananas, raisins, toasted pumpkin seeds, flax seed and served with a thing of brown sugar for you to sweeten as you like. It's a surprisingly healthy, and tasty breakfast of champions amongst all of Portland's more high-caloric offerings.
Our meal came to just under $28 including tips and two coffees. Everything about the Tin Shed speaks of humility — a friendliness and down-to-earthness that's refreshing. That casualness doesn't extend to the preparation of their meals, though. Humble they may look, but the hearty goodness on their plates will send your stomachs away happy.
Perfect for: some Karmatic loving for your tummy.
The Details
1438 Northeast Alberta Street, Portland
503.288.6966
tinshedgardencafe.com
— ♠ —