[rating:3]
Portland's Pig-n-Pancake is a rare blend of family-owned and run business and entrepreneurial ingenuity. It's doubtful this tiny chain of breakfast restaurants with a smiling pig as a mascot will give an empire like Denny's a run for their money, but they appear to have the West coast of Oregon on lock.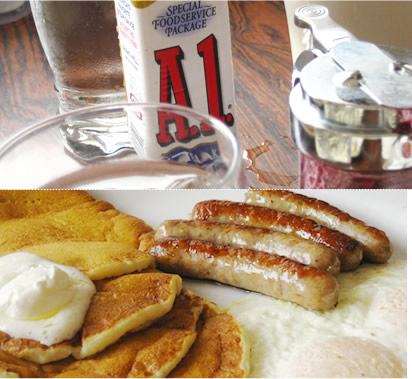 (Top to bottom: 1. A.1. for the folks down south. 2. The classic pig-n-pancake combo.)
It's like walking into giant, family dining area. Up front, we were greeted by a friendly, older lady who seated us at one of the booths. The menu is large-ish — two thirds of it dedicated to breakfast: pancakes, crepes, eggs, etcs.
Case ordered sausages and eggs with pancakes, of course: eggs were nicely over easy, sausages nicely grilled and pancakes fluffy. Classic greasy spoon meal, with a homestyle touch.

(Above: 1. Steak and eggs. 2. Fluffy pancakes, minus the pig.)
I had steak and eggs, a stocky piece of ribeye grilled a little more well done that I would have preferred — but the flavour was nice, and it helped sop up all that eggy goodness.
Our meal came to just under $30 with two cups of coffee, putting it on par with the likes of most major breakfast chains. The food at Pig-n-pancake, however, is definitely a notch above — simply executed, but with that extra bit of heart.
Perfect for: small, local chain breakfast alternative to big breakfast chain.
The Details
12110 North East Glisan Street, Portland
503.252.3457
pignpancake.com
Like us on Facebook to get your fill of Noshwell there.
— ♠ —