[rating:5]
Aloha Mixed Plate is a Hawaiian backyard barbeque served up on beach front property with a stunning view of the Pacific Ocean. Located on Front street, a bustling strip in the Lahaina town of Maui, Aloha Mixed Plate dishes out a seemingly random mix of Hawaiian, Chinese, Filipino, Portuguese, Japanese and some good old fashion American cuisine, all humbly onto an eco-friendly paper plate.

(Top to bottom: 1. Chicken Teriyaki Plate. 2. Lau Lau Plate.)
I'll save the extended history lesson for those much more well equipped to do so, but the concept of the mixed plate was born out of the plantation era of Hawaii. Plantation workers of various ethnic groups did the equivalent of lunch swaps with their indigenous cuisine and the mixed plate was conceived. The heart of plate lunches is two scoops of rice, macaroni salad followed by the toppings.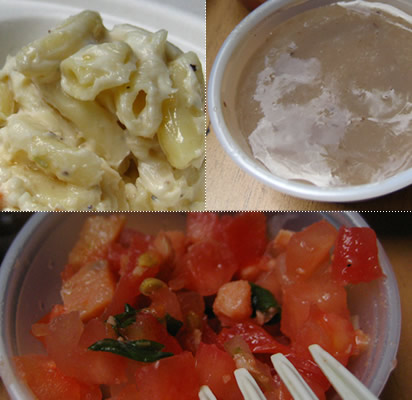 (Clockwise: 1. Macaroni Salad. 2. The infamous poi. 2. Lomi Lomi.)
On the menu, the mixed plate is topped with savoury meats like Kalua Pig and Cabbage or Lau Lau, a roasted pork wrapped in Taro leaves. The plates are accompanied with sides of Lomi Lomi salmon (a diced tomato and raw salmon salad), classic Macaroni Salad, Poi (mashed taro), rice, and Haupia (coconut pudding dessert). The infamous goopy, paste-like Poi isn't for everyone. Case wasn't too fond of it. I found it strangely satisfying, a great way to offset the saltiness of the meats. But seriously — it does feel like you're eating paste.

(Top to bottom: 1. Deep fried coconut encrusted prawns with a side of sweet chili sauce. 2. Loco Moco, hamburger patty, fried egg on rice and topped with gravy — yah.)
Aloha Mixed Plate's signature appetizer: deep fried, coconut encrusted prawns are wickedly crispy from the shredded coconut batter and really tender. If you're seeking something a little bit more hearty though, then look no further than the Loco Moco: a hamburger patty topped with a fried egg, slathered in gravy served over a bed of steamed rice. Perfectly satisfying after a hard day of surfing or frolicking on the beach.

(Top to bottom: 1. Pina Colada with umbrella noticeably absent. 2. Banana Cream Cheese Lumpia — Sinister.)
Finally, for dessert, they have all sorts of local spins on classic desserts. The only one we've had the pleasure of sampling was the Banana Cream Cheese Lumpia, which is exactly as it sounds — it's an egg roll stuffed with a banana and cream cheese and deep fried — a combination so wrong that it can't be anything but right.
The average meal for two will set you back no more than $20 including tax and tip — a pretty solid deal for a resort town like Maui. The beach front view is killer and dining out on the open air patio is pretty unbeatable.
Perfect for: experiencing a little bit of paradise.
The Details
1285 Front Street, Lahaina
808.661.3322
alohamixedplate.com
— ♠ —