[rating:3]
Pied-Ã -Terre is a modern French Bistro on Cambie Street, serving a condensed menu of carefully crafted classic dishes with a decidedly contemporary execution.
The interior at Pied-à -Terre has a wonderfully simple aesthetic with a bright dining room that belies its black and dark wood exterior. The restaurant's decorations are tastefully restrained except for a lone, grand and modern, black chandelier that hung overhead.
We were greeted (sort of) by a host and seated. He seemed marginally friendly, doing his best to produce a smile while showing us our seat and awkwardly reciting the menu.

(Clockwise: 1. Alsatian onion pie. 2. Random shot of track lighting. 3. They skewer their bread at Pied-Ã -Terre.)
Case didn't want to overdo it for lunch, so we ordered an Alsatian onion pie, an heirloom tomato salad and a Steak Frites (Onglet) for the two of us. Accompanying our meal was two glasses of Pinot Noir. Surprisingly the service was rather sporadic and curt. I don't know whether it was because the lone server happened to double as the host as well and was having trouble balancing the load, but he only visited our table to take our order and deliver our dishes, never returning to see how our meal was progressing. I supposed it had nothing to do with Case being in a casual dress with flip flops and me being in kicks, shorts, t-shirt and baseball cap while everyone else was in collared shirts and dress slacks.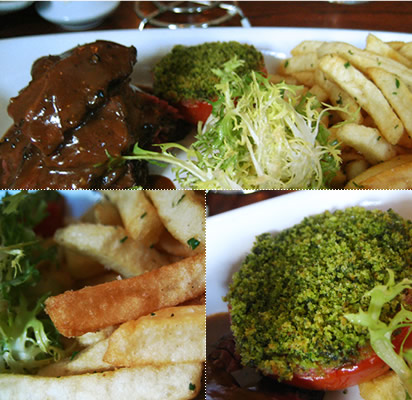 (Clockwise: 1. Steak Frites, an Onglet to be precise. 2. Herb-crusted tomato. 3. Les Frites up close and personal.)
The food took forever and I had to go feed the meter just before the one hour mark to avoid an uncomfortable scene with a meter maid or tow-truck operator. When the food arrived, the onion pie was quite good albeit rich and a tad over seasoned. The heirloom tomato salad was excellent: extremely fresh heirloom tomatoes mixed with roquette and gently tossed with a very light vinaigrette. The steak frites was decent — the sauce was off the hook and the flavour was nice — but the steak was disappointingly tougher than I had expected.
We were less impressed with our server. When he came to clear our plates, he didn't even ask how we enjoyed our meal, or whether anything was wrong with Case's half drunk glass of wine. Had he bothered asking, he would have learned a fly had decided to make itself at home in the glass of Pinot Noir midway through our meal rendering it undrinkable. Unfortunately, since service took over an hour and a half and our parking meter was running out again, we didn't really feel like sitting any longer to further that discussion.
Our meal came to $75 including taxes and tips, which we both felt was moronically high for a slightly above average lunch and minimal service. For a similar price, we dined like and were treated like kings at Les Faux Bourgeois.
Perfect for: dining on someone else's expense account.
The Details
3369 Cambie Street, Vancouver
604.873.3131
pied-a-terre-bistro.ca
— ♠ —