[rating:5]
Las Tortas is a Mexican sandwich shop on Cambie. The sandwiches (or tortas) are served on a soft, roundish bread that comes with your choice of deli meats and fixings that pack a wallop of flavour.
The dining room itself is a bit cramped, with just a few tables and seats. The walls are pale yellow and vintage-looking Mexican movie posters are hung all over. As first time customers, we were directed to their ordering system — a small table to the side with menus, stacks of brown paper bags with the menu printed on it and a bowl of crayola markers. You tick off your order on the bag with the marker and hand it to the cashier and then wait.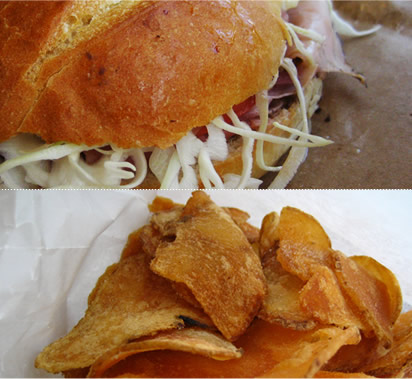 (Top to Bottom: 1. Hawaiina Tortas. 2. Homemade potato chips.)
Tre and I ordered a torta to share and a bag of homemade, potato chips with a side of garlic Aioli. Our torta was a Hawaiiana consisting of: Jamon (ham), pineapple and Oaxaca cheese. All tortas come with tomato, cabbage, pickled onions, jalapenos, guacamole, refried beans, butter and mayo. I didn't think I could finish one by myself, so Tre and I split a sandwich. I figured the torta was going to be heavy, but it was not, it was surprisingly light and very tasty. The pineapple added a nice sweetness to the sandwich. The pickled onions were not overwhelming and the shredded cabbage was not at all bitter, but added a nice crunch. The homemade chips were awesome! Deep fried, salty and crunchy — just as potato chips are supposed to be.
The sandwiches are a bit pricey ranging from $7 to $10, but so worth it. Not too shabby for just under $16 bucks including, chips, a can of coke, taxes and tips. But if you order two sandwiches and drinks, it'll add up pretty quick. I can see Las Tortas being a favorite spot. Next time, I'll finish a whole sandwich myself.
Perfect for: A Mexican twist on the sandwich that's all that… and a bag of chips.
The Details
3353 Cambie Street, Vancouver
604.569.1402
lastortas.ca
— ♠ —