[rating: 4]
I love Filipino food, especially from Josephine's, an eat-in place located along the Main corridor. From the outside, it looks more like an office with the blinds usually closed. Like many Filipino joints, this restaurant runs like an old school cafeteria instead of full serviced restaurant. Not much service and a glare or two lets you know they don't have much patience — so I wouldn't take too long ordering. But we like the food and the owner's seem alright.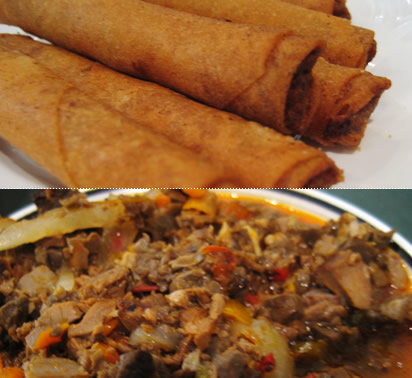 Tre and I usually get a combo to share. Any two items with rice and a little bowl of soup for $7.99. As much as we like Filipino food; it can be very fatty and rich. I guess that's what makes it delicious, but it's not so hot for your waistline. We have our favourite dishes. Bopis are finely diced spicy liver bits — which may not sound appetizing, but is definitely delicious and high in iron. There's also a tender, melt-in- your-mouth stewed pork sweetened in vinegar and some kind of fruit juice. Shanghai Lumpiang is a fried mini spring rolls with a whack load of garlic. The mini spring rolls are so good and highly addictive but pricey little suckers. The sweet barbeque chicken has hints of garlic. They only give you one piece of chicken as a combo item, which is kind of stingy. Sinigang soup is a traditional Filipino sour soup. Tre is not a fan of this soup and thinks it's weird. It's definitely an acquired taste. I, however, like this soup.
Tre and I have had our share of Filipino food, and Josephine's is our favorite so far. Great food, clean atmosphere in a no frills environment. Service can be slow at times. I suspect that with just one person heaping out the food and doubling as the cashier, service can get overwhelmed. Either way, we highly recommend Josephine's!
The Details
2650 Main St. Vancouver
604.876.8785
— ♠ —