[rating:1]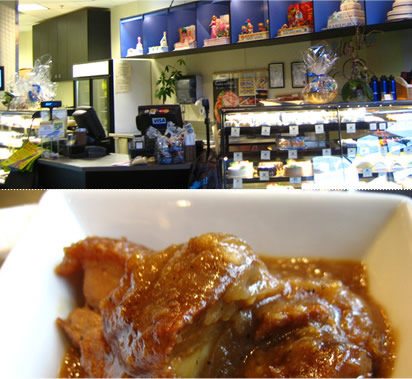 Goldilocks, the Filipino bakeshop chain that doubles as a cafeteria, expands their operation from West Broadway eastward to the Main Street area of Vancouver. This location focuses more on the core bakery side of the business, but we wanted to see if the food could still hold its own.

(Clockwise: 1. Shanghai Lumpia with plum sauce 2. Tocino: sweet, marinated barbeque pork. 3. Two scoops of rice.)
We ordered Tocino: a sweet, marinated cured pork; Shanghai lumpia; pork adobo;Â and two scoops of white rice. Unlike the West Broadway location, we couldn't see a kitchen with actual cooks (bad sign), but the food was presented much more nicely.
The taste, though, fell flat on its face. Now, we know that most of their food is reheated in the microwave, but both the adobo and Tocino had an impossibly tough, leathery texture — as if they were actually cooked in the microwave. The Shanghai lumpia were pretty decent, but for $20, the food was only a notch up from frozen dinners. Not recommended.
Perfect for: Staying dry while waiting for the bus.
The Details
2833 Main Street, Vancouver
604.876.2464
goldilocks.ca
— ♠ —