[rating:4]
So, you're hungry. You find yourself in Yaletown during lunch with no more than $10 in your pockets. What do you do? If you're a schmuck who doesn't know better, you'd probably head to the Subway on the corner. Otherwise, you'd be smart to duck into the Euro Pastry House, a little sandwich shop within a hidden mall on Mainland.
Inside, the sandwich lady will take your order. What you'll order is the house special: chicken schnitzel sandwich on your choice of bread. I like mine with dark rye. She will then ask you in a Ms. Swan-esque tone, "with Every-tiiiing?" To which you reply, "Yes." By everything, she means cucumber, lettuce, pickles, banana peppers, and tomatoes — the works. She'll also ask if you want mustard and mayo. I recommend you say yes. Then you go sit, and wait in anticipation.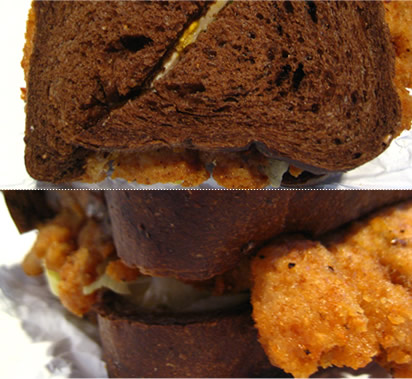 (Top to bottom: 1. An overhead view of gigantic chicken schnitzel sandwich on dark rye. 2. Close up of said gigantic chicken schnitzel sandwich.)
When the sandwich is ready, you are blown away by the gargantuan size. This is one monster sandwich. The breaded chicken is tender on the inside and crispy on the outside, and the fresh fixings make you feel less guilty about biting into this beautiful masterpiece of carbs and protein.
For under $10 for most sandwiches on the menu, this is the best kept secret in the area. The next best secret is if you're not that hungry, or don't quite need the hibernation after lunch, you can get half a sandwich for about $6. I'd order ahead if you can, or be prepared to wait a bit during the lunch rush.
Perfect for: if you're hungry and low on cash in Yaletown.
The Details
1058 Mainland Street, Vancouver
604.602.0003
— ♠ —