[rating:3]
Dougie Dog, started by a proprietor with a clear passion for hot dogs, is located in the entertainment district on Granville Street. Sure, there are various toppings to be had but unlike most hot dog vendors, Dougie Dog starts off with wieners that are all natural and free of hormone, chemicals and preservatives. Then, they lay on the toppings.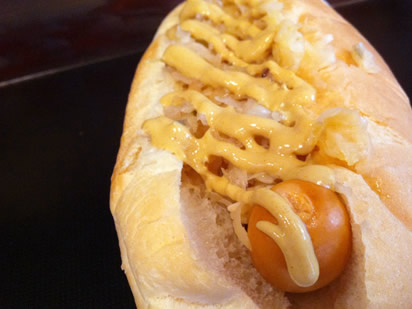 (Above: the New York Style dog — classic with mustard and sauerkraut.)
Dougie Dog has a sizeable menu influenced by a road trip across America to discover the best hot dog. This lead to such menu items as the Dave Grohl (whiskey infused, cole slaw and hot peppers) and the Downward Dog (a veggie dog topped  with tomato, onion, spinach, avocado and feta). But it was the more familiar New York Dog we ended up selecting — a classic with spicy mustard, piled with sauerkraut and served on a warm soft hot dog bun. It finished with a satisfying snap after each bite.

(Left to right: Mac 'n Cheese, and a side of slaw.)
To accompany our dog, we ordered a side of their homemade mac n' cheese, which looked a lot more tasty than it really was. The pasta was sorely overcooked and despite all the cheese — tasteless.
Dougie dog is also home to a wide variety of root beer, both bottled and tap. We opted for the tap variety which was cold and frosty and tasted smooth with a slight hint of medicinal spice.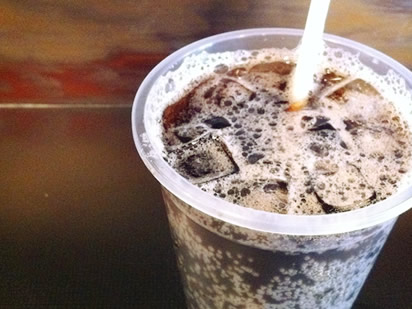 (Above: Root beer on tap. Serious business.)
Our bill including taxes came to under $20, on par with most hot dog prices in the Downtown area. I can see Dougie's being extremely popular after a hard night of clubbing, with patrons one upping each other trying some of the crazy combos. Skip the sides, however, and stick to the dogs and root beer.
Perfect for: a street meat alternative.
The Details
1011 Granville Street, Vancouver
604.468.3647
dougiedog.com
— ♠ —