[rating:3]
Toyotami is an unassuming sushi restaurant located on North Burnaby's restaurant strip along Hastings near Gilmore. There's nothing remarkable about the exterior facade, so unless you're actually looking for the restaurant, you'll likely walk by without noticing.

(Top to bottom: 1. New York Roll. 2. Combo 608, Spicy Tuna Roll and Tuna Sashimi.)
Case and I started with the randomly numbered Combo 608: Spicy Tuna Roll encrusted encrusted with Tempura batter bits and tuna sashimi. The hot sauce was mixed well with chopped tuna (not simply drizzled over like most places), and the Tempura batter provided a nice crunch, although the rice was sloppily put together. The flavour of the Tuna sashimi was decent, but the texture was slightly mushy.
Signature rolls appear to be a speciality of the house, so we ordered one — the New York Roll: prawn tempura, cucumber, avacado topped with spicy salmon, drizzled with Japanese mayo with a sprinkling of Tobiko, spring onions and sesame seeds. It's a surprisingly tasty, organized chaos looking dish — very rich, with some strange flavour combinations that shouldn't work, but somehow blend harmoniously.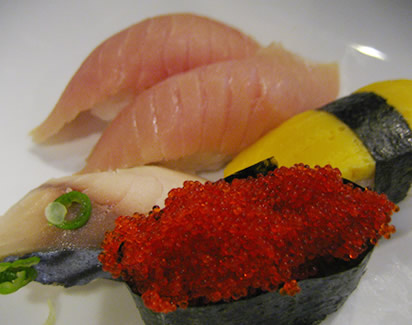 (Above: Various Nigiri Sushi: Otoro, Tamago, Saba, and Tobiko.)
The Tempura appetizer was a miss; we could taste the oil used to deep fry the batter hadn't been changed in awhile. Luckily, the Nigiri was pretty well executed: the Saba (mackeral) was tasty, as was the Otoro and tobiko. Only the Tamago seemed to suffer from being slightly anemic.
Our bill came to $35 including taxes and tips. Service was so-so, and the meal had both its high and low points. They also have daily dine-in only specials with heavy discounts on certain dishes for each day.
Perfect for: Sushi. If you happen to find yourself in North Burnaby for some reason.
The Details
4121 Hastings Street, Burnaby
604.676.1506
— ♠ —