[rating:3]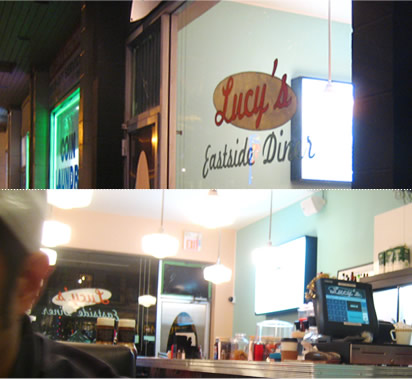 Lucy's Eastside Diner on Main Street is open 24 hours — yes, 24 hours — catering to satisfy all of your greasy spoon cravings.
Lucy's is a throwback to the old school diner, furnished with large booths and gigantic bottles of Tabasco sauce on top of their dining tables. Light blue and peachy wall colouring and vintage knick knacks continue the retro vibe reflected by the menu.

(Top to bottom: 1. Standard Diner Setup. 2. Fried Chicken Dinner with Mashed Potato, Gravy, and a Mess of Vegetables.)
Tre ordered the fried chicken dinner served with mashed potatoes, veggies and gravy. I opted for Lucy's carbolicious homemade mac and cheese. The fried chicken was decent — slightly sweet with what tasted like a mixture of seasoned panko crumb batter. The sides, however, weren't so comforting: the veggies were an off putting chop suey mess of peppers and onion chunks. And the mash potatoes were either overly whipped, or straight from a box — heavy and dense.
The mac and cheese, however, was tasty — drowned in generous amounts of unnaturally golden, cheesy goodness topped with buttered bread crumbs.

(Top to bottom: 1. Unearthly, Yellow Glowing Mac and Cheese. 2. Vintage Decor at Lucy's)
Our bill including taxes and tips came to $19, which makes Lucy a pretty budget friendly, no frills meal for the neighborhood. It's a step up from old school greasy spoons, but there are still some kinks to be ironed out. An added bonus — Lucy's stays open for 24 hours, a rarity for the area.
Perfect for: Late night, greasy spooning.
The Details:
2708 Main Street, Vancouver
604.568.1550
lucyseastsidediner.com
— ♠ —