[rating: 4]
Ki Isu Japanese Restaurant is a Yaletown joint that's doing its best to set itself apart from the yet another Vancouver sushi restaurant crowd. It has a tall order. Ki Isu is attempting to stand out with an avant-garde menu that pushes the definition of traditional sushi. Such folly can result in either a refreshingly new experience, or a dismal failure. It's risky business.
Ki Isu serves up the standard sushi restaurant menu: Nigiri, Maki, Donburi and Sashimi. A friend turned me onto their Seasonal Specials — you know, those house specials where well-meaning chefs turn a wonderfully simple traditional dish into a disastrous, inedible plate. No so, this time.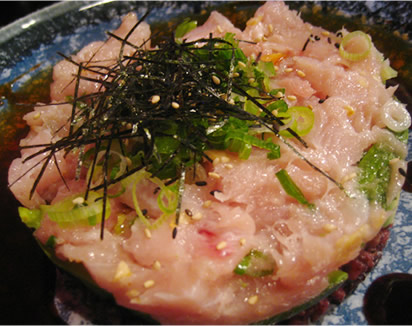 (Above: Toro Stack — Black Brown Rice, Toro, Green Onion, Nori, Garlic, Avocado with Unagi Sauce)
Case and I ordered the curiously named Toro Stack: a plate of black and brown rice topped with fresh, roughly chopped toro, green onion, garlic, chunks of avocado, topped with shredded nori and drizzled with Unagi sauce. The mayhem of flavours walks the fine line of utter failure, but crosses over to a wonderfully surprising harmony borne of chaos. Seemingly mismatched, disproportionate ingredients somehow work together to be simply — tasty.

(Above: Crunch Crunch Roll — Tuna and Tempura Crunch, Spicy House Sauce and Mayo and Unagi Sauce)
Next, we had the Crunch Crunch roll, a misnomer, as the plate arrived with an intimidating stack of tuna and tempura crunch roll, drenched in spicy house sauce, Japanese mayo and unagi sauce and smothered in a ring of tobiki. If there is such thing as sushi gluttony, this would be it. The volume of sauce may not be to everyone's liking, but it fit well with the dual crunchiness of tobiko and tempura.
The two dishes, more than enough for two people, came to just under $30 including taxes and tip. The Seasonal Specials at Ki Isu is anything but traditional, but the experimentation paid off with an experience that's both surprising and satisfying.
Perfect for: a walk on the wild side of sushi.
The Details
1275 Pacific Boulevard, Vancouver
604.899.0366
kiisujapanese.com
— ♠ —