[rating:3]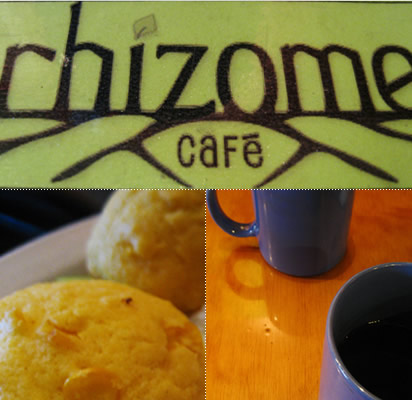 Rhizome Cafe on East Broadway is a neighborhood cafe that serves healthy, fresh, organic foods in a laid back atmosphere. The cafe is painted in warm, inviting colours and adorned with fresh artwork from local artists. A sofa is stationed in the middle of the room for people to congregate or to simply sit and eat.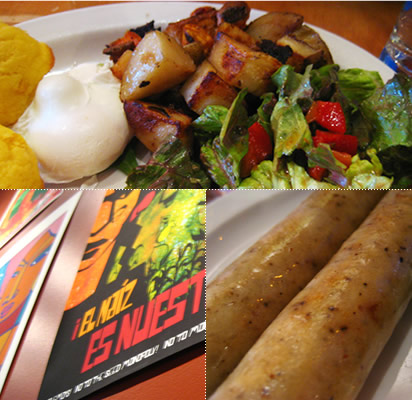 (Clockwise: 1. Poached eggs, salad, yam and potato has and homemade corn muffins. 2. Chicken sausage. 3. Posters and Art.)
I already knew what I wanted. I was in a pancake mood, so I ordered two Kamut Banana Pancakes: vegan pancakes made with organic kamut flour, maple-lemon zest and served with maple syrup and fruit. Tre opted for the standard breakfast: two poached eggs, salad, roasted mish mash of potatoes and yams and a side of chicken sausage. We also had two cups of (free trade, organic) joe to get the day started.
When our plates arrived, the meals looked good. My pancakes were pretty. They were thin and lightly dusted with icing sugar, topped with slivers of maple-lemon zest. The pancakes were a little heavy and dense because of the kamut flour, but was good: flavourful with a slight nutty texture. The maple-lemon zest added just a slight tease of sweetness on my tongue. Tre's Rhizome breakfast was pretty darn good: the organic eggs were poached perfectly; the mish mash of fried potatoes and yams were tasty; but the salad was nothing special. The organic chicken sausage was initially forgotten, but arrived shortly after. It was off the hook. The sausage was well seasoned and cooked perfectly. The chicken sausage was so good that it didn't taste like chicken — it tasted like pork.

(Top to bottom: 1. Kamut Banana Pancakes topped with maple-lemon zest. 2. Friendly, neighborhood atmosphere.)
Our meals including taxes and tips came to just under $25 which is not too bad, but not cheap either. The service was decent and the owner came to check up on us to make sure we were good. Rhizome Cafe's atmosphere is a great place to eat and chill out. I'm all for a cafe that promotes upcoming local artists, provides space for people to connect and supports progressive social work. Who thought dining could be so progressive?
Perfect for: a healthier, yet tasty alternative to your regular brunch spot.
The Details
317 East Broadway, Vancouver
604.872.3166
rhizomecafe.ca
— ♠ —