[rating: 4]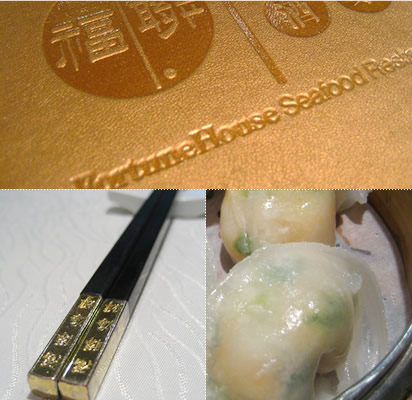 Fortune House Seafood Restaurant in Metrotown serves up consistently solid dim sum in a more upscale than usual environment. Dim Sum can be both a harrowing and rewarding experience. Regardless of the venue, it usually involves some sort of physical activity (primarily concerning the elbows). Fortune House is no different, although its comparatively luxurious decor necessitates are more subtle approach — arrive early, or take a number and wait. Elbows are a last resort.

(Clockwise: 1. Spare Ribs in Black Bean Sauce. 2. XO Sauce. 3. Chicken Feet.)
There is no cart service here (that would be uncivilized) — orders are placed by marking off desired dishes on menu sheets and handing it off to your server. Case and I ordered a few dim sum standards. The chicken feet was fall apart tender and bathed in a beautiful savoury sauce; the steamed spare ribs gently seasoned and tender; while the shrimp and chive dumpling proportionately balanced with the right amount of meat and thickness of dumpling skin.

(Top to bottom: 1. Steamed Bean Curd, Scallops and Enoki Mushrooms. 2. Baked Red Bean and Tapioca Dessert.)
We followed up with some dishes not found in all dim sum restaurants. The steamed bean curd with scallops and enoki mushrooms were awash with a light cornstarch glaze; while the baked red bean and tapioca dessert was a crunchy delight on the outside and sweetly soft on the inside.
Our meal came to $35 including taxes and tips, which is certainly on the pricier end of dim sum. However, the quality of food at Fortune House has always been solid.
Perfect for: solid Dim Sum while waiting for the mall to open.
The Details
4700 Kingsway, Burnaby
604.438.8686
fortunehouserestaurant.com
— ♠ —