[rating:3]
Dose Expresso Bar is a tiny, contemporary coffee shop on West Broadway that houses a miniature front counter, serving miniature snacks in a miniature seating area.

Despite the limited floor space, Dose is a bright, fresh, and clean space. A small pile of magazines lay on top a vintage looking wooden chest situated in an L-shaped seating area. Obscure Hip Hop remixes fill the air while the barista busily concocts our drinks.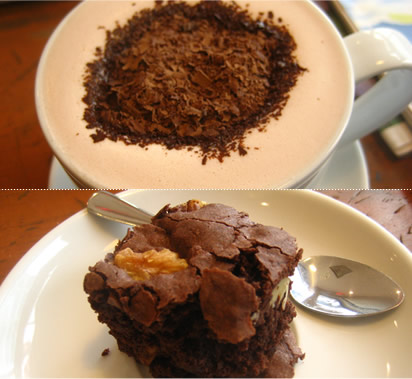 (Top to bottom: 1. Dose's Signature Nutella Hot Chocolate. 2. Miniature Brownies.)
We ordered the Nutella, Dose's own twist on hot chocolate, plus two shots of espresso and a mini brownie. The friendly barista advised us the mini brownies and almond cakes were three for $3 — a tempting deal that we declined. The mini brownie was appropriately served on a warmed mini saucer — a nice touch that enhanced the brownie tasting experience.
Our foamy mug of Nutella was topped with a generous pile of dark chocolate shavings which was a delightful way of  serving hot chocolate. We still needed our caffeine fix, easily remedied with two shots of espresso. Unfortunately, the espresso was on the bitter side with a hint of sourness, leaving us a little disappointed with the coffee.

(Top to bottom: 1. Whimsical signage pepper the  walls at Dose Espresso Bar. 2. Double dose of espresso.)
Our quick sugar and caffeine fix came to just under $7. Dose Espresso Bar is a nice change of pace from the busy coffee chains. The space is small and minimal, but the atmosphere is chill and the staff friendly. They'll need to work on the espresso, but their interesting twist on hot chocolate and tasty mini pastry is worth checking out.
Perfect for: a sugarfied pit stop on South Granville.
The Details
1517 West Broadway, Vancouver
604.734.7711
dosedosedrink.com
— ♠ —