[rating:5]
Le Bistro Montage on South East Morrison St. serves Cajun inspired foods in a laid back atmosphere. It sits on a corner underneath the Morrison bridge in an industrial part of Portland. Long, communal wooden tables occupy the spacious dining room of what was once a hotel, where one dines amongst the company of strangers. Their menu boasts such items as Cajun gator bites, jambalaya, gumbo, and some of the best oyster shooters ever.
Our friends Mike and Virg tipped us off to Le Bistro Montage, having enjoyed the food here before. Virg was excited about the oyster shooters and Mike was laying in wait for the fried chicken. The oyster shooters appear to be the most popular items on the menu as each order is relayed by the server to the kitchen by hollering it across the room at the top of their lungs.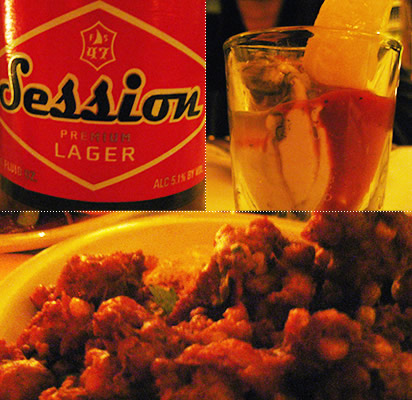 (Clockwise: 1. Session Premium Lager. 2. Oyster shooter. 3. Crawfish Hush Puppies.)
It was the 6 of us for dinner: Mike,Virg, Steve, Yi-Fan, Tre and myself. Unlike the eerily abandoned industrial wasteland outside the restaurant, the inside was alive and packed with excited diners. The atmosphere is similar to — what was once cool — Subeez. The music blared and everyone appeared to be having a good time with both friends and strangers.

(Top to bottom: 1. Buttermilk fried chicken with cornbread. 2. Mac 'n cheese — a classic.)
We started with a couple rounds of oyster shooters, which were phenomenal! Served in a shot glass with creamed horseradish, lemon and a Cajun cocktail sauce, I couldn't get enough of them and would have been happy having just the oyster shots as my meal. I ordered the Spold (Spicy & Old) mac and cheese. Unlike most mac and cheese we've been had, this one wasn't hidden under a layer of cheese skin and crusty pasta. The macaroni was practically poached in the spicy, creamy and cheesy broth.
Tre ordered the catfish: flaky, tender and flavourful. It was served with rice, salad and corn bread. Steve and Yi-Fan bravely ordered the gator bits: battered and deep fried bits of alligator served with a dipping sauce. Not surprising, it tasted like rubbery chicken — not something we'd necessarily order again. The crawfish hush puppies, however, were tasty bits of seasoned, battered goodness. Buttermilk fried chicken and scallop linguini were also had (and were all well executed) as were some local beers.

(Clockwise: 1. Catfish with rice and cornbread. 2. The menu taped to the window. 3. People enjoying a meal in the company of others.)
For just under $40 for Tre and myself, including tip (no taxes) — we ate well, really well. The food was great, the service was decent and we had a great time. If you have leftovers, they even wrap your food in tin foil and create a little sculpture. Virg and Yi-Fan's leftover corn bread was transformed into an easy chair and a whale. How cool is that?
Perfect for: Cool food, cool atmosphere, cool people and spicy Cajun flare under a bridge.
The Details
301 Southeast Morrison Street, Portland
503.234.1324
montageportland.com
— ♠ —