[rating:3]
Ha Long Pho Noodle House in Honolulu is a small, contemporary, family run restaurant located in the Chinatown area on Kalani Street. It's hidden in a small industrial looking plaza near the middle of nowhere next to a few random store fronts.
Inside, the bright green colours with pops of black provide a strangely serene backdrop to the waiting meal. We suggest signing in with your license plate number at the front to prevent your car from being towed while slurping down your noodles.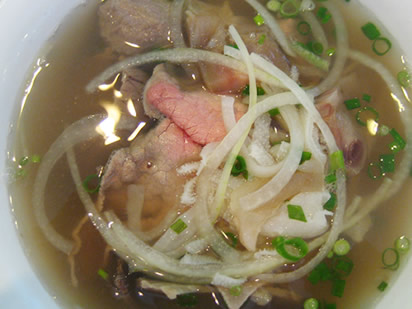 (Above: The old standby Pho, rare beef with rice noodles in soup.)
We ordered two beef noodle soups, a plate of summer rolls to share and two iced coffees. For Tre, a beef noodle combination comprising rare steak, beef balls, well done brisket, tendon and tripe. The tender beef parts were swimming in a sizable bowl with a large heaping amount of noodles in a subtle light coloured broth.

(Above: Iced Vietnamese Coffee — Cafe Sua Da — really hits the spot on a hot day.)
I had beef tripe with noodle soup, which arrived with a good amount of tripe — enough to put a happy smile on my face. My noodles, however, were a bit over cooked for my liking. The summer rolls were less exciting: standard shrimp and pork wrapped in rice paper with vermicelli, mint, lettuce, cucumber, bean sprouts and served with peanut sauce. It all looked very refreshing, but instead tasted bland. We hoped the peanut sauce could rescue the rolls, but unfortunately it also suffered from a similar blandness. The iced coffees with condensed milk, however, were nice and strong and gave us a good buzz for the rest of the day.


(Above: Shrimp and pork salad rolls, christened the Summer roll at Ha Long.)
Our bill including taxes and tips came to just under $35. Which isn't cheap, but seems to be on par for Pho in Hawaii. The meals were okay. We wouldn't go out of our way for a return visit. But if you're in the area looking for a nice quiet place for lunch or dinner, Ha Long just might just hit the spot.
Perfect for: Hot noodles and iced coffee in paradise.
The Details
Suite B107 –Â 1286 Kalani Street, Honolulu
808.845.3687
halongnoodle.com
— ♠ —