[rating:4]
gr/eats is a casual dining spot with a pan Asian American menu that's about as eclectic as the magazine that birthed it. As if the folks at Giant Robot weren't busy enough putting out the magazine, opening art galleries, or running retail stores, they decided to add restaurants to their box of tricks.


(Clockwise: 1. Curry Udon 2. Asian Slaw 3. Slivers of pickled ginger.)
As big fans of Giant Robot magazine, we couldn't pass up the opportunity to stop by gr/eats and sample their menu. Where else could you serve such a random assortment of dishes as shrimp fried rice, Oyako Don, fish tacos and Calpico — all with both intentional irony and authenticity at the same time?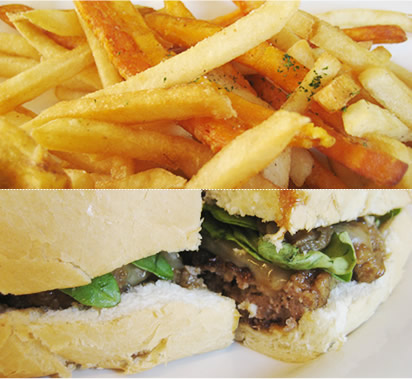 (Top to bottom: 1. Mixed fries. 2. Teriyaki Burger.)
I started with their burger of the day, Teriyaki: a nice beef patty with greens and a gently seasoned Teriyaki sauce served on a roll. On the side, was a mix of fries: potato, banana and sweet potato in varying shapes and sizes. Case ordered the vegetarian curry udon, a hearty stew of udon noodles in a thick, Japanese curry broth generously topped with green onions.
Our meal wouldn't be complete without dessert — and their Tempura ice cream was calling out to us. The beautiful tempura crust firmly cradles the ice cream treasure inside, a nice twist on the classic deep fried ice cream dish.

(Clockwise: 1. Tempura ice cream. 2. Wage, the patron-ugly doll of food bloggers presides over this table. 3. What it looks like when you break open Tempura ice cream.)
The decor at gr/eats is fitting of the magazine's personality: vintage, forest green Eames seating in a bright and whimsically decorated (were those Ai Yamaguchi block painting on the walls?) school cafeteria-like space. Our meal came to just over $20, which makes this not only a tasty outing, but a surprisingly affordable one.
Perfect for: finding out how Giant Robot magazine would taste like… without eating the magazine.
The Details
2050 Sawtelle Boulevard, Los Angeles
310.478.3242
gr-eats.com
— ♠ —