[rating:5]
When you're travelling, finding good, affordable and distinctly local flavours is always a challenge. Luckily for us, we stumbled across one such spot near the base of Honolulu's famed Diamond Head Crater Park. Diamond Head Market and Grill is a local market on one side and a grill on the other. You line up, pay, wait for your food and then you're off. Or better yet, enjoy your food out on the picnic tables located in the parking lot basking in the sunshine.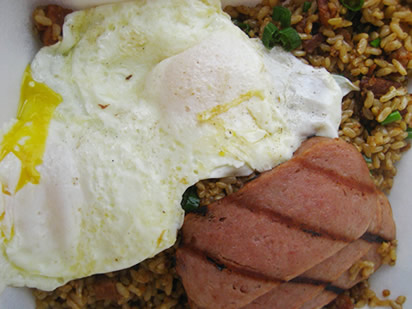 (Above: The breakfast of champions. Fried egg, spam and fried rice.)
Diamond Head Market and Grill was our favourite go to spot during our stay in Honolulu. You could find us there during breakfast, lunch or dinner. A simple menu of combos is posted out front conveniently next to the order window. Home style Hawaiian grub is made to order and served in a styrofoam (not the most earthy friendly) container for convenient transportation. We've sampled a good portion of the menu during our stay, but a few favourites stuck out.

(Above: Chocolate Banana Walnut Pancakes.)
For breakfast, try a short stack of chocolate, banana, walnut pancakes which is a house specialty. Two large, lightly golden, fluffy pancakes served with a side of condensed milk and topped with walnuts and chocolate chips. These pancakes are off the hook.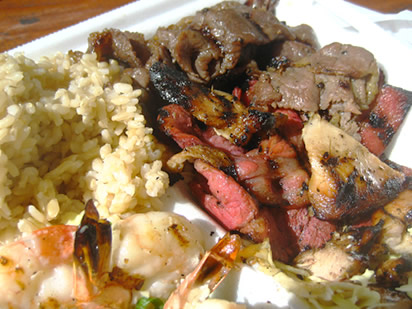 (Above: Hawaiian style surf and turf with Asian style grilled meats, rice and gigantic shrimp.)
Our all time favourite for breakfast is the aptly named breakfast plate: two fried eggs, spam and brown fried rice. Not the healthiest meal, but who cares, it's a good source of fuel to power the rest of your day — a magical combination that could only come together properly in a place like Hawaii.
For lunch, try the surf and turf plate: perfectly grilled garlic shrimp, wasabi ahi, teriyaki chicken, teriyaki beef, char siu served with a side of brown rice and macaroni salad. Everything on the plate was flavourful and bang on, and quickly polished off.

(Above: The famed Diamond Head Market Torte, a chocolate cake with banana, peanut butter, pudding and capped with whipped cream.)
We returned to the market a number of times to browse the locals snacks and daily baked goods including devilish sweets like the Red Velvet Cake and the Diamond Head Market Torte: a cake stacked with bananas, peanut butter cheese cake, chocolate pudding, Oreo crust and topped with whip cream. Oh yes we did. And it was fabulous.
Tre and I shared most of our meals and the cost set us back a mere $15 including taxes and tips. They also offer a choice of size for your combos from mini to full plate. The soulfully cooked meals and delectable treats make Diamond Head Market and Grill a necessary daily pit stop. Make sure you have some cash in those swimming trunks though, DH Market and grill is a cash only joint.
Perfect For: Breakfast, lunch and dinner.
The Details
3158 Monsarrat Avenue, Honolulu
808.732.0077
diamondheadmarket.com
— ♠ —