[rating: 4]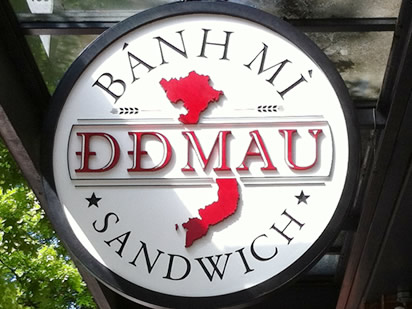 Yaletown has a new neighbourhood go-to lunchtime spot. And its name is DD Mau — a scrappy, young upstart serving up Banh Mi the likes you haven't seen before. In a parallel universe, if Banh Mi were to originate from the wilds of the Pacific Northwest instead of the streets of Saigon, this might have been the result.
DD Mau distinguishes Banh Mi from Vietnamese Sandwich — the former a Vietnamese term for bread, the latter a colloquial anomaly that many use in reference to that all-too-ubiquitous crunchy, pate, cold cut and pickled vegetable concoction you would find at joints likes of Ba Le or Au Petit Cafe.
Case had the classic: Vietnamese cold cuts with shredded pickled carrots, daikon radish, cilantro, and mayo folded into a hearty, tube shaped baguette baked fresh in house. The bread is more dense than the traditional crumbly, pillowy baguettes we're used to, but doesn't disturb the balance of the sandwich, providing a heartier carb for a more complete meal.
In addition to the classic Banh Mi, DD Mau offers a range of less familiar combinations like the sweet, thinly sliced honey garlic beef dip, or the Chinatown rumble version of crispy roasted pork (siu yuk), or maybe crispy BBQ duck, or perhaps some sweet BBQ pork (char siu) amongst others — all of which work remarkably well into the Banh Mi formula. My only gripe (my gripe, not Case') is an overload of pickled veggies in each sandwich, which is easily remedied by asking for less upon ordering.
Even the Vietnamese iced coffee (cafe sua da) gets the local treatment at DD Mau. Instead of slow dripping individual orders, they use local coffee bean purveyor: JJ Bean espresso and mix in condensed milk poured over ice for a refreshingly cool buzz.
Our meal came to $22 for two sandwiches and an iced coffee including taxes and tips — which is probably one of Yaletown's more affordable meals. DD Mau is a lunchtime favourite, so expect a bit of a wait during the noon hour rush, and except for a few spare seats both inside and out, prepare to brown bag that lunch and head to the seawall.
Perfect for:Â Modern Banh Mi in Yaletown.
The Details
1239 Pacific Boulevard, Vancouver
604.684.4446
ddmau.ca
@ddmau
— ♠ —