[rating:3]
The Reef on Commercial Drive is about as far away from the Caribbean Islands as you can get, but the laid back vibe is a fitting match with The Drive's bohemian denizens. As the Vancouver's spring season begins to set in, the Caribbean influenced menu at The Reef may be the next best thing for those that won't be seeing a tropical destination any time soon.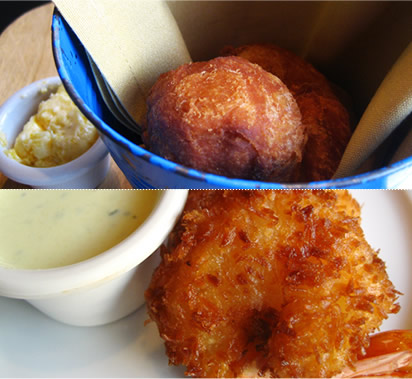 (Top to bottom: 1. Complimentary deep-fried Johnny Cakes. 2. Coco Prawns)
Inside, the cabana-like interior draped in shades of bright yellow and blue is reminiscent of dining in a seaside shack. A lanky fellow is bopping his head to the riddims he was spinning in a tiny, make-shift hut-like DJ booth planted in front of the bar.
Instead of the usual bread and butter, the Reef serves a bucket of complimentary deep-fried Johnny Cakes shaped into balls. The slightly crispy skin and dense dough is remarkably similar in texture and taste to sweet, deep-fried Chinese donuts.

(Above: Bajan Fried Chicken with Yam Fries.)
Our first dish was Coco Prawns: generous prawns battered in toasted coconut and deep fried, served with a lightly refreshing minted avocado yoghurt dip. Followed by a plate of wondroulsy curvy, yellow leaf-shaped deep fried plantain chips served with a side of jerk mayo. The subtle flavour and banana chip-like texture were complimented by the mayo dip kicked up ever so gently with jerk sauce.

(Above: Plantain Chips.)
For our main, Case and I shared the Bajan Fried Chicken: a generous piece of chicken deep fried in a dark, malty batter served with yam fries, homestyle gravy and cole slaw. The chicken was a bit dry, but the batter was crispy and without a trace of oil. Yam fries were a bit soggy, but tasty. We enjoyed the cole slaw which was like a refreshingly crunchy sauerkraut salad tossed in a bit of horseradish.
Our meal came to just under $37 including tax and tip. Some of the flavours lacked the boldness and spiciness we expected. Instead, the dishes were a generally well-prepared and subtle, modern taken on Caribbean cuisine.
Perfect for: Imagining yourself on a white-sand beach, if only for an hour.
The Details:
1018 Commercial Drive, Vancouver
604.568.5375
thereefrestaurant.com
— ♠ —