[rating:4]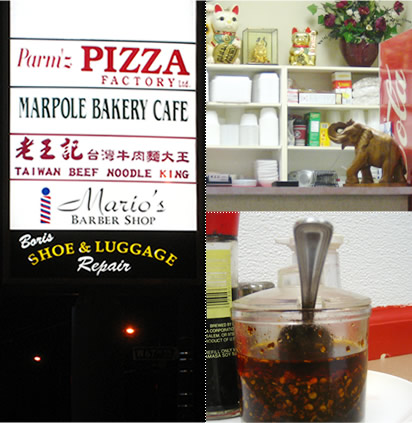 Taiwan Beef Noodle King, located on Oak Street in Vancouver, attempts to bring a little bit of Taiwanese flavour to this Marpole neighbourhood with classic beef noodle soup and addictive pan-fried dumplings.

Taiwan Beef Noodle King is a bit of a dive. The lights are dim and I notice a fish tank near the front entrance next to a creepy dog statue contains no fish. Regardless, we're here for our beef noodle soup fix. The rumour is the owner first opened Tony's Beef Noodle Soup but left to start a number of noodle shops, one of them being Taiwan Beef Noodle King.

(Above: Dry Noodle topped with XO sauce.)
The classic stewed beef noodle soup was a no brainer for Tre: thick chunks of beef simmered in beef stock with hints of star anise and spices in every slurp. The noodles were thick, chewy and clearly homemade. The soup was garnished with slivered onions and a bit of mustard greens that added a bright pop of colour.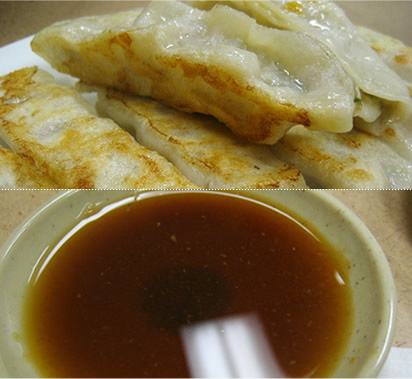 (Above: Crack in a blanket — aka – pan-fried pork dumplings.)
I opted for noodle with spicy XO sauce: a heaping spoonful of saucy minced pork, slivered cucumbers, and chopped green onions on top of a big handful of thick noodles. The minced pork was subtle with barely any taste of XO sauce. The cucumbers were unnecessary, leaving an unpleasant sour flavour. And the noodles were too starchy for my liking.
Lastly, we had the pan fried pork dumplings, which were awesome. Eight juicy, sausage roll-like, garlicky dumplings that were made with love and pan fried to perfection.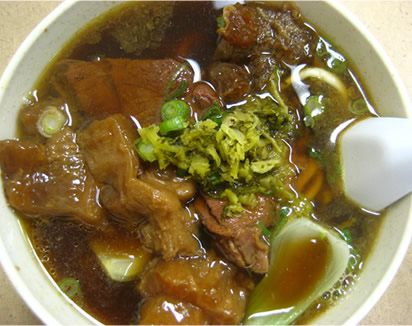 (Above: The Classic Taiwanese Beef Noodle Soup.)
Our bill including taxes and tips came to just under $24, the standard at most noodle houses. Taiwan Beef Noodle King may not be the most comfortable place to dine, but you'll mostly likely be too busy slurping away to notice. Bring cash, because that's all they take.
Perfect for: a Taiwanese Beef Noodle Fix
The Details
8335 Oak Street, Vancouver
604.266.8718
— ♠ —